Online is a recession free zone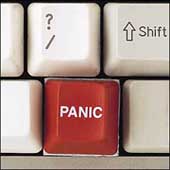 Apparently there is a recession.
The media will have it that the world is in meltdown and that it's armageddon out there. 
Woolies, MFI and Adams have gone to the wall.  Well honestly, I am not surprised.  Woolworths and MFI were awful businesses stuck in a time warp and deserved to die.  They were slothful and easily out done by more dynamic competitors.  MFI have done nothing in the last 20 years to dispel their brand image of producing low quality, dated furniture.   Woolworths were kidding themselves if they thought that people actually enjoyed entering their shops.  They may have been cheap but even the bargain hunters appreciate clean, well presented shops.  I never went into Adams but they looked pretty dated even though they were relatively new.
Other companies are retracting as well.  Marks and Spencer are closing some food halls but so what.  They had over expanded in the good times.  The fact that they are closing a few poorly performing shops isn't the death knell.  It's just a little tightening following a gluttonous expansion.  And maybe it means that the consumer, who is a little more careful these days would prefer not to pay an excessive premium for near identical products being sold next door. 
The care free spending attitude has changed and retailers need to adapt, but it doesn't mean that people won't spend money if the product is well priced and well presented.
This all reminds me of a previous hullabaloo in 2000 when the .com bubble burst.  The world's press then tried to write off the whole Internet as a busted flush, when in fact there were many businesses doing very nicely online thank you.  It was only the news grabbers who had borrowed millions to set up spurious, hubristic .com world beating websites that failed to succeed.  They were poorly thought out businesses and poorly executed.  They too deserved to die.  There were many smaller, prudent businesses making a decent return throughout this period.
So, as before and as now there may be some troubled waters but there is no reason for retailers to panic. (Though for bricks and mortar businesses, they need to renegotiate their exorbitant rents with their landlords).  This is especially true online.  People still have money and they would prefer to spend it online. Anecdotal and personal experience shows that online sales on most websites are growing.  Latest sales figures from those retailers that have reported on Christmas sales also supports this:
John Lewis – online sales up by 27%
House of Fraser – online sales increase of 150%Â  (1.7 million visitors over Christmas period)
M&S – online sales up by 29% (although down 7.1% overall)
Ocado – up 97%
Sainsburys – online sales up 27%
Thorntons – online sales up 25%
Next Direct – up 1.1% increase since last year
Aldi visitor traffic up 64% year on year
Play.com Sales up 20%
Our own clients at Datadial have also reported record online sales. 
The big question for these retailers is how to return to charging full value for their products and services and to get away from the omni present discounting.  This is the subject of my following blog.