Facebook PPC vs Google PPC
Many of us have the question in our minds trying to figure out whether they should use facebook ppc or Google ppc, but realistically the only way one can resolve this dilema is to try them both and measure the results over a period of time.
Facebook Ads:
Facebook ads are rapidly gaining in popularity and are very beneficial to small to medium size businesses, attempting to increase traffic with pay per click.
Facebook is currently showing up as having four hundred million active members and is the only company that Google actually acknowledges is a real competitor to them.
Facebook is pretty much untapped compared to PPC advertising on Google, Yahoo or Bing.  There is another big benefit to this type of advertising – if people like your business, they can pass "word of mouth" very easily to other people on facebook, and now you have happy customers doing your advertising.
Another fantastic advantage of facebook advertising is you can target a list of potential customers in a way that was never available before.  Demographic targeting means that facebook PPC clients will be able to set up their ads so that they only appear on the facebook pages of people who are tightly defined as part of their target market. For example, advertisers will be able to select from a number of options such as age, gender, marital status, geographical location, hobbies and interests. When ads are as well targeted as this, copy writing becomes a much easier process. You have a much better chance of generating targeted clicks to their sales pages.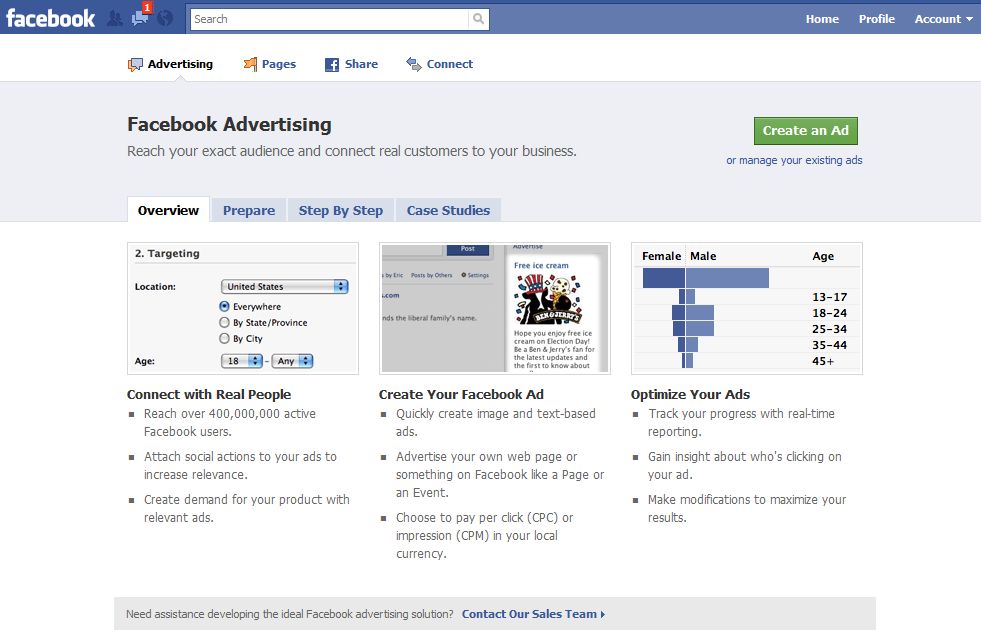 Google Ads:
Google pay per click advertising is a flexible, relatively low cost method of promoting your website and generating interest that can help you achieve your company's targets.
It can be economical compared with more traditional advertising strategies.
The principles of pay per click advertising are straight forward – if a company is willing to place the highest bid for a keyword it will be ranked the highest on the search results page.
For short-term advertising campaigns, pay per click advertising is ideal – allowing organisations to change the copy of ads. as desired to reflect keyword changes.
In both cases the disadvantages of pay per click campaigns is if they are not monitored on a regular basis, ones company could end up spending more money than it made by pay per click advertising. The cost per click will remain the same rate, whatever your traffic levels are.