Maximising offline activity to get the most out of your SEO campaign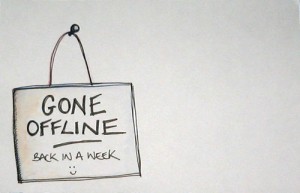 It often seems to be normal practice to treat SEO campaigns as a stand-alone form of marketing.  Groups of shadowy geeks perform magic in the room at the end of the corridor, with sales and marketing teams avoiding them as much as possible at the water cooler.
However, it's important to remember that SEO is just another form of marketing – and as such planning and integrating your search engine optimisation with your other marketing channels will mean far more coherent and effective campaigns.
Advertising
All advertising campaigns should have SEO and the company website in-mind. Is it easier for rushed commuters to remember an often random telephone number or a website address?
Do you now see more and more TV and poster campaigns telling people to 'Google' or 'search' them?   With the growing bias towards the personalisation of Google search results, having users Google and click-through to your brand is likely to mean you're then likely to appear more favourably for them in subsequent searches.
Any increase in brand searches on Google will also (arguably) benefit your site with increased brand visibility after the UK brand update back in March.
Feature your website address prominently
Consider asking people to Google/search you – make sure you're ranking for the term though!
Maybe target your SEO towards a memorable phrase you can ask people to search for – "army jobs" is a good current example.
PR Campaigns
Leveraging offline PR campaigns is a great way of getting added value out of both. I'm often surprised how many SEOs haven't even asked if a client has a PR campaign in place, think of all of those link opportunities that have been missed and all of the great web content that is going to waste.
Ensure you have spoken to the PR campaign account manager so they know the importance of asking for their editorial to be placed online and understand the impact of links from their content.
Make use of the content the PR is generating. Ask to get cc'd in on their releases and discuss the scope for them to help distributing your linkbait to their journalists and their media contacts.
Between you draw up a list of the online properties you want to see your client featured on. Many blogs now have larger readerships than national newspapers – they make-up an important part of both PR and SEO campaigns, you need to make sure you approach these sites correctly with a strong proposition.
Content
Publishing good content is often the stumbling-block that holds-up many good SEO campaigns. The first port of call should be the client, asking the right questions about what's on their shelves gathering dust can save thousands in content writers fees.
Encourage staff at the company to make public the results of any research or industry analysis that they have performed.
Ensure your entire product catalogue or list of services is published on your site. The more you can break this down into component products and services and publish these on their own individual pages the better.
Consider making any stats facts and figures that you have into an infographic. You'll find presenting data in a graphical format gets a lot more attention than a simple table of figures.
Get the entire company blogging. If you can get everyone enthusiastic about publishing great content it takes a lot of the time pressure away from the SEO and marketing teams. Often the real industry experts in the company lie outside of these departments anyway.
Are there already any user guides, FAQs, or client literature already in existence that can easily be published online?
Sales Teams
Keep in regular contact with your sales teams about client feedback. make sure you gather data as much as possible from phone conversations.
Find out from your sales teams how customers refer to your products and services. Often it's different to how you refer to them – the keywords that you're targeting should reflect this.
Get feedback from your sales teams about questions and objections that frequently crop-up. The chances are that if people are asking questions they'll also be Googling them too so make sure you add these to the FAQ section of your site.
Existing Contacts
In any linkbuilding campaign your existing contacts should be your first port of call. High-quality, on-topic links from relevant sites, as easily obtainable as a quick email or phone call.
Partner companies and suppliers and distributors sites are always worth leveraging for links.
Encourage your staff to blog if not doing-so already. Either on your own corporate blog or on their own sites. Branding your staff as experts can be as effective as branding your company.
Check to see if industry association or corporate qualifications sites offer links back to their members
Make sure you put your company forward for corporate awards, usually even the nominations receive links back to their site.
Image credit – Rachel Creative