4 more ways to increase conversion rates
This article is aimed at people new to e-commerce. It covers some of the basics of ensuring that your website maximises conversion rates.
It should also be read alongside  12 quick ways to increase conversion rates.
For more experienced e-commerce managers please see this article on advanced techniques for increasing conversion rates.
1) Minimized Navigation on Shopping Cart/Basket Pages
There is nothing more frustrating for an online retailer than an abandoned basket. Why did the user go all that way and then lose interest??
It's fair to assume at the check out stage that a user does want to buy something.   So our advice is to minimise the navigation available on your shopping cart pages. Keep wording short, simple, and to the point. Do not allow any distractions that could potentially pull your customer away or cause a delay.
By adding in lots of last minute deals and offers you risk diverting attention and losing the sale.  Not everyone subscribes to this method, however at Datadial we believe it to be the best option.
An example: http://www.yapp.co.uk/pages/checkout_Login.aspx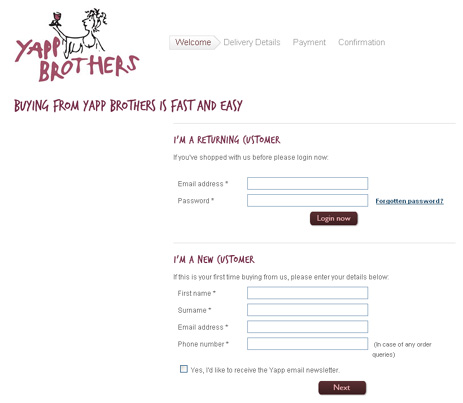 2) Clear and Upfront Notification of Delivery Charges
Tacking on fees on to a final price without notification early in the buying process is the quickest way to lose a potential sale.  Numerous surveys have revealed that hidden delivery costs are the number one reason for people to abandon a shopping cart.  Notify your customers upfront if they will be required to pay any shipping or handling fees. This is a great way to increase conversion rates and build customer loyalty.
3) Clearly Display Trust Elements for Consumer Confidence
Remember, quite often users do not know who you are, where you are or really anything about you.  Therefore it's crucial you do everything you can to gain, nurture and keep your customer confidence in order to increase conversion rates. Here are a few ways to do this:
Clearly display "trust elements" on your website. Trust elements can include:
a. Credit card logos. Use only approved, high-quality logos representing the types of credit cards you accept. This helps customers feel more secure in knowing you are a legitimate business. It also shows the user that they can buy from your site. It may not be obvious otherwise.
b. Contact information. Whenever possible clearly display your companies contact information. Customers need to know they will be able to contact you if they have a problem, questions, or need more product details.
c. Real employee names and a company director. When people shop online they like to know with whom they are dealing. Displaying real names and titles of key company employees will help consumers feel more secure in knowing there are real people running the show and not just computerised robots or answering machines.
d. Photos of faces and places. Include photographs of the people with whom your customer is dealing. If appropriate and applicable, include very short biographies about the smiling faces on your website. Consider using photographs of your business location if applicable. This helps people understand yours is a legitimate business with a real location and that you aren't likely to disappear in the night.
e. Visual verifications of claimed approvals, affiliations, and other credentials. If you have the "Good Housekeeping Seal of Approval" for example, proudly display it in a prominent place. If you have earned awards for business-related, and sometimes personal accomplishments, tell your consumers with a quality image and link that leads to more information.
f. Push any special customer services you have to offer. If your customer service representatives are bi-lingual or speak multiple languages, find a way to let potential consumers know from the get go.
Multiple Payment options
Most of the time one payment option on your site is totally adequate.  But in the interests of maximising conversions you might consider adding other payment vehicles to your site.

The most popular alternative is PayPal.  Some users only ever use paypal as they are comfortable with it and trust it.  PayPal offers your customers options. They can pay with major credit cards, or can pay directly from their own PayPal account.  It also has the advantage (depending on how you look at it)  that Paypal store your credit card so that you do not have to re-enter it each time you visit a site offering Paypal.  Paypal is also great one for small and start-up businesses that have no established a financial history with their banks. It's fast and easy to register, display on your website, and capture funds that can be transferred right to your bank account.
So why not add it as an option?
Well it's expensive with commission rates around the 3% mark (and 20p per transaction).  Paypal also have a knack of siding with the buyer in the event of  dispute meaning that refunds are issued on request, leaving merchants frequently out of pocket.
It's an extra administrative thing to manage but if adding Paypal helps get an extra % sales conversion on your site then maybe it is worth it.

Google Checkout also offers easy solutions for start up merchants and small businesses. Google checkout claim to increase leads and create more conversions with a fast, easy, convenient checkout process.
You can also sign for basket abandonment alerts so you can recapture customers who wander away without buying!
The main advantage that Google Checkout has over Paypal is that its icon appears in Adwords results – so naturally drawing your eye to merchants using it, resulting in a 10% uplift in conversion rates according to Google.

However, Google Checkout has many drawbacks.  Its interface and design are distinctly amateurish and this influencers trust building for users on their site.  (Having said that Paypal's interface is not much better).  Also it's only possible to link Google Check out to credit card accounts and not bank accounts.
Since its launch Google checkout has not taken off in anyway like Paypal before it and struggles for market penetration.
But, as above, if it means a small increase in sales conversions, and you can put up with the extra administrative hassle, then maybe it's worth having Google Checkout as well as Paypal as well as normal Credit Card payment facilities.
Like Paypal, Google Checkout is suitable for small and larger merchants alike, though brand aware and high end merchants are unlikely to be found using either as there is undoubtedly something "cheap" looking about both!