Is this the future of linkbait?
I've just come across The Print Effect by Cartridge Save. If you haven't already seen it go take a look (then come right back… I'll wait).
What is it? It's a Twitter app that creates an infographic-like page for each Twitter user you enter. There have been similar things in the past, and this particular one I think is genius: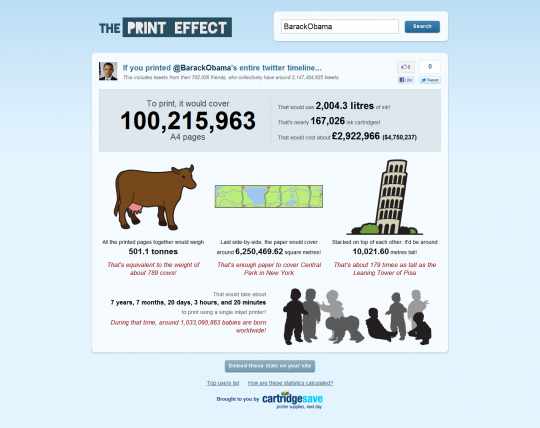 Why is this one a little different to the others? It appears the output content changes for different users (take a look at mine and Matt's- I've got badgers, Matt has cows!)
Why Do I Think This is Such a Cool Idea? (Aside from the cows, obviously)…
Linkbait is getting harder and harder- people are getting bored with infographics and the sharing element to infographics is somewhat limited (I'll happily forward on and link to good content but I'd do it even more if it's about me, the selfish human that I am). This takes on a new twist- linkbait via dynamic infographics!
What I like about this is it's a little different for every user, and people want to share (and link to) interesting things that are about themselves!
As an SEO I would've implemented a different URL structure to prevent creating hundreds of pages for each user, however judging by the shares this has already received I'd be surprised if it doesn't pick up a decent amount of links too.
Perhaps it's time to get a web developer involved as well as the designer or content writer when crafting your next linkbait campaign?