New email marketing features release notes
At the beginning of the June, our email marketing platform went through some enhancements in features and functionality, including mobile/SMS features (available July, 2011), Facebook and Twitter integrations, and the new workflow automation canvas.
What's new:
Send Time Optimisation
For each contact, send time optimisation automatically schedules email messages to send at the time of day, and optionally the day of the week, the contact is most likely to open emails from you. You should avoid using send time optimization for time sensitive deliveries where you want control over when the email is sent. If a contact is new or we don't have sufficient open time data for a contact, the delivery will be made using the time you choose using the Send message now or Send at this time radio buttons.
NOTE: send time optimisation option is only enabled in advanced options when sending your email campaign.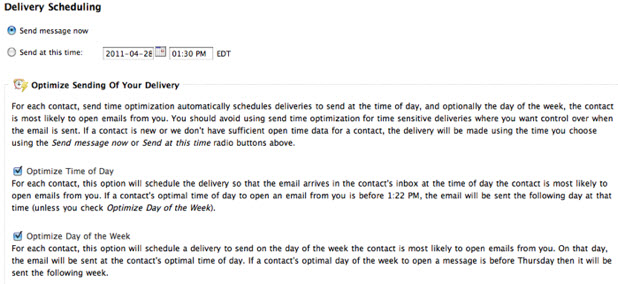 Workflows (available end of June, 2011)
With workflows you can specify combinations of triggers, filters, and actions that determine how to handle contact data, and what marketing communications to send them.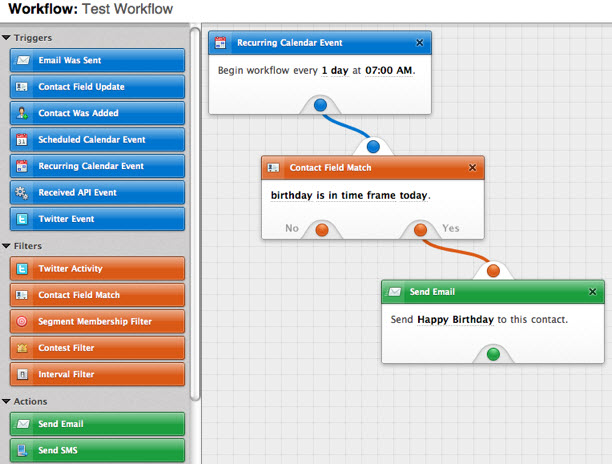 Facebook Integration
By integrating your email account with a Facebook account you'll be able to add a Like button to email messages and webforms, schedule & post Facebook messages, let contacts sign-up using their Facebook information, and map Facebook data to contact fields. You can also trigger workflows based on if someone liked a status, liked a page, commented on a status, or posted to a page.
Twitter Integration
As with Facebook integration, integrating your account with your Twitter account allows you to post to Twitter and track the posts made via the application. You can also trigger workflows based on whether a contact mentions or retweets a Twitter username you have setup in your account.
Support For QR Codes
QR codes allow you to encode a URL into an image that you can add to email messages. If a contact prints out the email, they can take a picture of the QR code with their smart phone and they will be redirected to the URL you specified for the QR code. Read more about What's a QR code.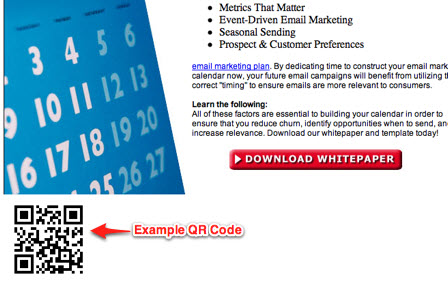 Redesigned Message Overview Page
Redesigned message overview page now includes more information about metrics associated with email messages, as well as the delivery groups which an email message has been added to.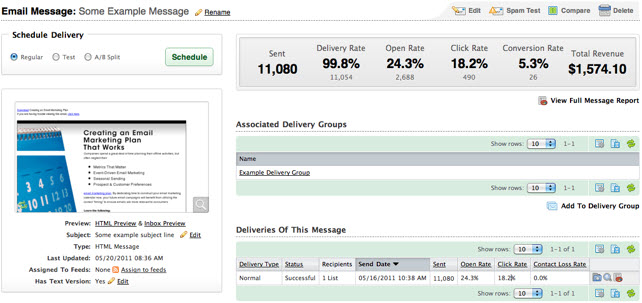 Auto-Saving of Messages
This new feature will auto-save your messages automatically to the Drafts folder every minute. That way, if you forget to save a message or your computer crashes, you will still be able to access the version of the message you were working on. The Drafts folder is automatically created for you when this feature is enabled.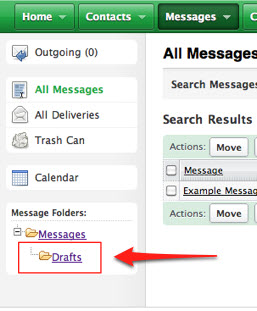 Message Approval Prior to Sending
When enabled, all newly created messages will require approval before they can be send. To enable go to: Home > Settings > General >

Videos
2 minutes tour
30 minutes webinar