We're Being Sued – For Linking To Shopzilla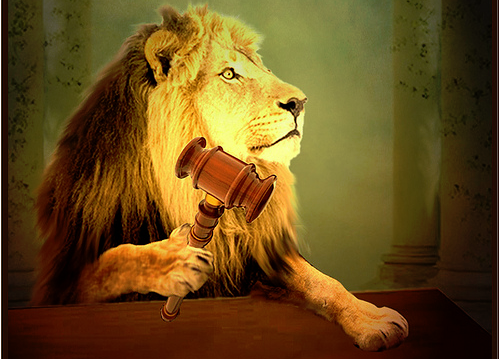 If you like crime stories, you'll love this. 'True Crime: Hammersmith' is the story of a deranged criminal organisation (Datadial) and the ensuing legal battle to stop it.
Chapter 1. The Best Intentions.
On August 17th, 2010; the world was rocked to its core when the Datadial blog posted an article titled 'Increase Conversion rates – advanced techniques'. Of course, it all seemed fairly innocuous. A simple review of tools to help increase conversion rates on your website.  The article named several companies and their websites and praised them for their techniques. Indeed, one man even thanked Datadial for the mention!

Clearly Mr. Eames didn't realise that he was just a pawn in one man's cruel game; the likes of which the legal world has never seen. …until now.
Chapter 2. The Worst Intentions
17th April 2013. Almost three years later. An email is sent from Fox Williams LLP to the author of the article and owner of the website, Mr. Robert Faulkner. The email was sent on behalf of Fox Williams LLP's client, Shopzilla.co.uk. You've probably heard of Shopzilla. According to their Trade mark List of Goods and Services (which was supplied in the email) they specialise in: 'Promoting sale of goods and services of others; Internet consumer comparison shopping services; providing ratings and reviews of businesses and products and services for use by consumers; providing databases containing commercial information relating to products and merchants'. As it transpires, Shopzilla had been mentioned in Datadial's article all those years ago. Right at the bottom. As an honourable mention, as recognition for their online service.

Shopzilla had finally gotten wind of the article, after all that time; and they did the only thing any self-respecting company would do. They contacted their solicitors to have the link removed.
Chapter 3. Motives
Why did they want the link removed? Why indeed. Allow me to reprint the grounds of the legal action and analyse each point in-depth:
Trade Mark infringement
The Infringing Website contains a link to our client's website, http://www.shopzilla.co.uk, creating an unauthorised association with our client and their Trade Mark. Your use of the link on the Infringing Website is:
Causing detriment to the distinctive character of the Trade Mark;
Causing detriment to the reputation of the Trade Mark by creating an undesirable association with the Infringing Website; and
Taking unfair advantage of the goodwill attached to the Trade Mark.
Our client is entitled, at its own election, to damages or an account of profits for use of the Trade Mark.  
Now… as I've mentioned, Shopzilla is legally defined as one that "provides ratings and reviews of businesses and products and services for use by consumers". It sets itself up as one. That is the legal definition of Shopzilla. If acknowledging this definition is 'detrimental to the distinctive character of the trademark' and it creates an 'undesirable association' I daresay they might need to have a brand re-think. I wasn't sure exactly what 'Goodwill attached to the Trade Mark' meant. Suing for a mention of your brand doesn't seem like an act of goodwill to me. I have since looked up 'Goodwill' in legal terms and it pretty much means 'the right to do business without direct competition'.
Basically not stealing other people's business. (If anyone has a better definition, I'd welcome it in the comments). I'm not quite sure how praising a company prevents it making profits; but I'm fairly sure Datadial didn't steal any of their market, or any other products that Shopzilla recommends on its site.
As requested, I'll provide an account of the profits Datadial made through the use of Shopzilla's name alone:
£0, 000, 000, 000, 000, 000, 000, 000
We'll happily share in these profits with Shopzilla. It's only fair.      
2. Passing off [Fox William's LLP's] client's goodwill Our client has invested significant time and money in developing the Shopzilla® brand making it instantly recognisable amongst the public as a trustworthy and reputable online comparison shopping engine. It is highly likely that the average consumer will be confused, believing that our client is in some manner connected with the Infringing Website, either through ownership and operation or through a commercial relationship or endorsement with the operator of the Infringing Website. Such connection is causing our client damage. As such, your use of Shopzilla® in this way constitutes passing off.
I had to open my legal dictionary again for this one. Basically 'Passing off' means creating an undue association between two parties, specifically one claiming undue association with the goods sold by another company. I'd like to state unequivocally that Datadial's use of a link congratulating Shopzilla® on its use of product comparison is not an attempt to gain an association with Shopzilla® or any products sold or compared on Shopzilla®'s website. It would be interesting to see if Shopzilla® could provide proof that Datadial has stolen any of its business.      
3. Copyright Infringement The use of the Infringing Website of text and graphics taken from our client's websites is an infringement of our client's copyright. You have copies and communicated the copyrighted work to the public through the Infringing Website. The use of the copyrighted work has occurred without the consent of our client, the copyright owner. We put you on notice that any continued use of our client's text and/or graphics (in whole or in part) on the Infringing Website will constitute and infringement of our client's copyright. This is without prejudice to our client's position that you already have the requisite knowledge to establish such liability.
I was totally on-board until the last sentence. Even my module in Forensic Linguistics couldn't have prepared me for that. I guess they're suggesting that because Shopzilla® is a well-known website we should know that everything on their site belongs to them.
If Fox Williams LLP is reading this, I would recommend visiting The Plain English Campaign's site. I've provided a link so you know what I'm talking about. . http://www.plainenglish.co.uk/ I hope they don't sue me…
Legalese notwithstanding, Datadial hasn't stolen any content from Shopzilla®. Neither text nor images have been used. Shopzilla®'s name wasn't even used. It was a link via a URL, and you can't copyright a URL. And even if you could (WHICH YOU CAN'T) it was a mention in a review so it's fair use! What's even more confusing is that Shopzilla appears to have sold out on Point 6 of its own philosophy:
'Information is Empowering: Share it Wherever Possible'.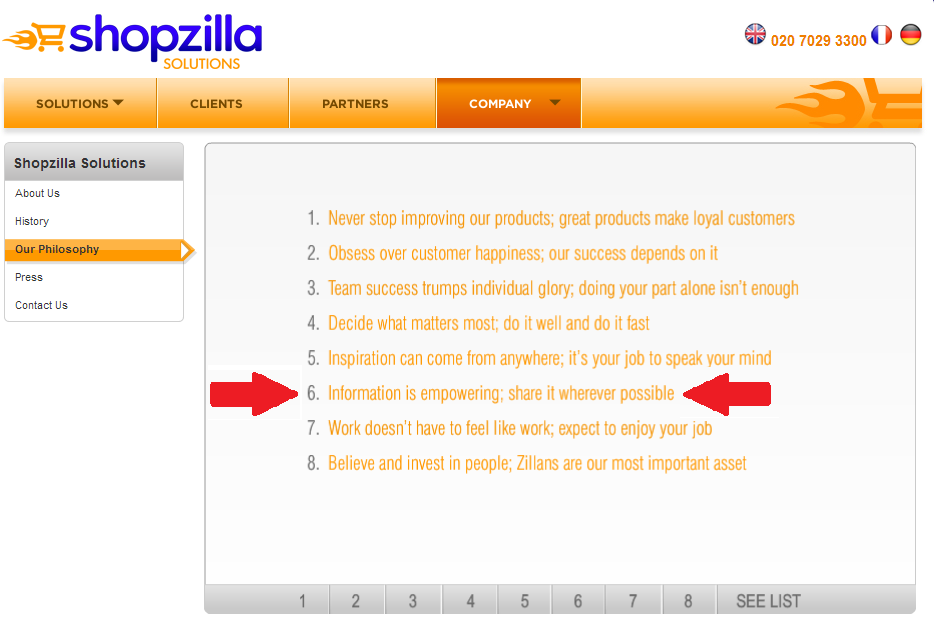 Chapter 4. Reasons.
So far as I can tell there are no legal grounds for removing a hyperlink. We have been advised by Fox Williams to seek legal advice, so I am hoping the readers of this article can offer some help. Fox Williams have not mentioned that this is a link clean-up operation; and surely they would have gone down the normal route if that was the case. If they'd sent us a polite email asking for the link removal, we would have explained that since we have a reasonably high domain authority of 50+ the link in question would likely have little effect on their rankings and it's 3 years old anyway so any effect would have been discounted anyway…etc As a precautionary measure we have taken down the link, as requested. If anyone has any thoughts on why Shopzilla wanted this link removed so badly, please share them here though keep it legal!   Chapter 5. A riposte. Datadial is not a law-firm, but it is an internet marketing agency. We know how to use Google. Upon receiving the email, we took to the web to find out all we could about the legalities of Hyperlinking. Here are some insights into the subject as documented by Out-Law.com.
The author of the original article has never been in trouble with the law. He's an honest man who does business by the book. You can imagine his upset when he received the original letter. Faced with the fear that he would spend the rest of his life in prison, he considered transfering all of the company's money to The Battersea Cat's Home, and move to a Tibetan Monastery. However, he quickly rationalised the situation and sat down on his sofa with a glass of wine and a Twix. Since Shopzilla® and its lawyers are solely responsible for causing an undue amount of stress, it only seems fair that they reimburse him for the glass of wine and Twix. Twix: £0.80 Glass of wine: £2.40
– Update:
Chapter 5. Prologue.
Shopzilla's VP has come forward to apologise for the misunderstanding. The apology is in the comments below. They acknowledged that it was a mistake and said they were sorry it happened. I guess we're not being sued anymore!
–Update 2:
We just received a courier delivery…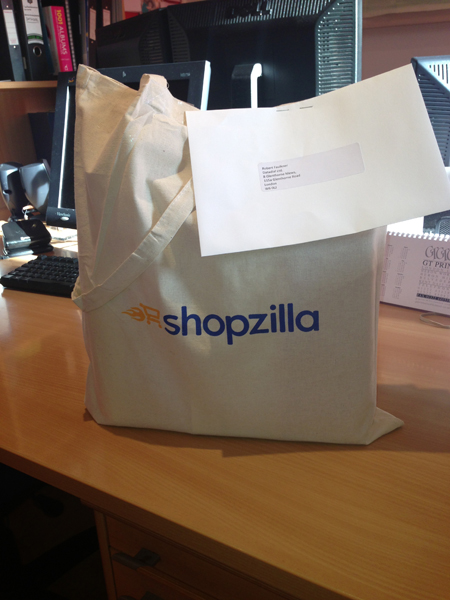 I wonder what it is…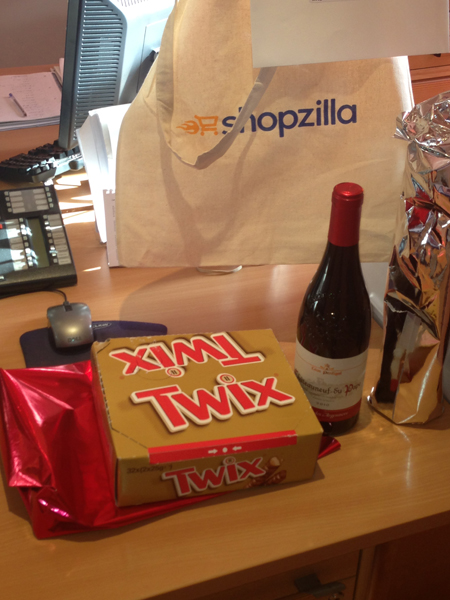 Well, how about that! A bottle of Red Wine and a box of Twixes. Thanks very much Shopzilla!