Link Reclamation – 7 Basic Wins
What is link reclamation?
Link reclamation is where you're looking to re-establish links or mentions that were directed towards your site in the past. There are many reasons why previous links may have disappeared but usually it comes down to technical reasons, such as updated pages or a wrong redirect put in place. You could argue it necessary to carry out a link reclamation project every time a website is being redesigned and content is migrated.
Put simply, link reclamation is the process of locating, contacting and fixing broken links to yours or your client's website. It also has the added benefit of being a totally organic process, with virtually no risk attached. You're only making the most of current mentions of your company.
Link reclamation is the perfect go to method when starting any link building campaign. It's simple, quick and will give your campaign a steady footing right from the word go. Examples of where to look for previous links could range from charity work, local or national press, sponsors, exhibitions and review sites such as trust a trader or trust pilot.
Shall we begin… Exciting!
For this you'll need:
Moz's Fresh web explorer
Webmaster Tools
Excel
Screaming Frog
Majestic SEO
Brand Misspellings 
One for brands is to look for misspellings. Frequently people will have webmaster error and for whatever reason, they will misspell your domain name.
For instance if you're a big brand, say Renault or something, you could look for alternate spelling mistakes for your brand (Renualt.com) and where people have linked to the wrong site. From there, it's simple enough to get in contact with the source of the link and ask that the link be corrected, helping both "our" users.
John Henry Scherck wrote a fantastic post on building links from brand misspellings, all you need is excel, majestic and Aaron Wall's keyword misspelling tool and you can scale this to another level.
Reverse image search
Have any interesting images on your site? What about your logo? YES! This one is easy. Use the Google reverse image search. This can be a very effective piece to your link building puzzle. Monitor your images and see who's used them without crediting you as the source. There are other tools out there that can help achieve the same, such as Tineye, Creative commons and Compfight.
You can take this a step further by using your competitor's images or logos and see what websites are linking to your competitors. A good attitude to take from here would be to try and analyse why they're using your competitor's images over yours. It could be that they have a direct interest in your industry and therefore a chance to outreach presents itself.
Fresh Web Explorer – Moz & Google Alerts
Fresh web explorer really has to be one of the easiest ways to locate mentions of your brand that are being scattered around the web. Simply enter your URL or Brand name and search. You'll hopefully be rewarded with a list of recent mentions that may have passed under your radar. You can also search for multiple phrases at a time, which is handy.
Similarly, you can use good old fashioned Google alerts. You can set this up to track your keywords, brand mentions and even Url's. If someone mentions you, you'll get an alert sent through to your email. From there, you can decide if you'd like to get a link from the resulting website.
Use webmaster tools
Go to crawl > Crawl errors, click on your URL's to see where they're linked from.
Simply click on that link and you should have a pop that gives you a more detailed look. From here, click on "linked from".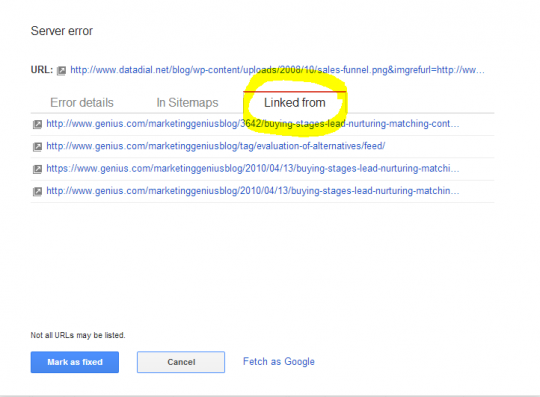 This should give you the complete run down of who's linking to you. From here, you can decide if these links are worth keeping or not. If they are and you have another page that is up to date and has thematic relevance to your 404 URL, simply place a 301 redirect in place. Then click "mark as fixed" and let Google get to work.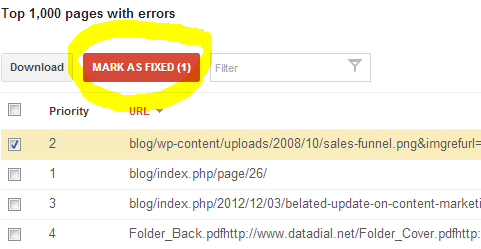 This is such a simple fix that it would be a crime to leave it out.
Moving Links to your Primary domain
Many companies have more than one domain. Perhaps it was that new intern that recommended a new domain or mini site that you've completely forgot about. It could even be an old product that is no longer available.
Going through all your old web assets can sometime uncover some golden opportunities, sometimes going beyond links. Perhaps you'll rekindle an old business or promotional partnership that served you well in the past. By resolving this issue with a 301 redirect, you can transfer link equity from the unfavoured to the favoured.
Important note: Don't redirect an old site to the new if it suffered from a Google penalty. You'll only be breathing new life into those spurious links that caused you all that bother.
Redirected Pages & Server response errors
Using the scraping frog tool, scrape through the depths of your site, as deep as you can possibly go.  Make an export of the crawl and pay attention to the response codes that are being found.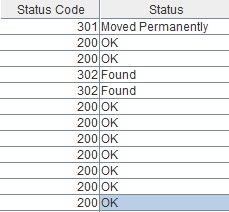 If you're seeing server errors pop up, you can run backlink checker and identify problem areas. Pay attention to 302 redirects, change them to 301's if possible, allowing previous link equity to pass through. You can also use a header checker tool to follow redirect paths. My favourite tool for doing is Ayima's redirect tool. I can simply follow the previous redirect path for any problem URLs.
Links to tweets
This is a slice of genius from Ross Hudgens at Siege Media. If you have an active twitter account for your brand, you can make use of your historical data and create an archive of all your tweets and interaction, which can be done by going to account settings. You should then receive an email with instructions to download the zip file. This may take away depending on how active you are.
Place into a CSV and upload using screaming frog. Once it's been crawled, you can easily see which web addresses have linked to tweets in your archive. If you're responsible as the source of that content, try getting in touch with that web-master and ask if they can kindly change the link to your site instead of your Twitter handle.

This is just a handful of easy ways to reclaim or identify links that you should be making the most of, a great way to get a link building campaign off the ground. I'm always up for learning, so if you know any other cool little tricks, please comment below. Who knows, perhaps I'll even be kind enough to link to you in the future.