Google Goes After Brand Names With Its Comparison Engine.
Again, Google gets the backs up of companies investing heavily in its services, though this time it's not through an algorithm update or a change in the webmaster guidelines. Rather, it's their comparison feature that has sandbagged the major comparison shopping firms.
If you're involved in Travel, Finance or Insurance, you need to be aware that Google is interested in controlling these verticals within its own search engine, as much as possible. The opportunity for profit is huge as is the tonnes of valuable data that will be collected.
The Google comparison feature was soon released after they acquired comparison site "Beat That Quote" back in 2011. The feature meant that Google would appear for generic competitive industry related keywords, such as car insurance or mortgages. This is still the case today.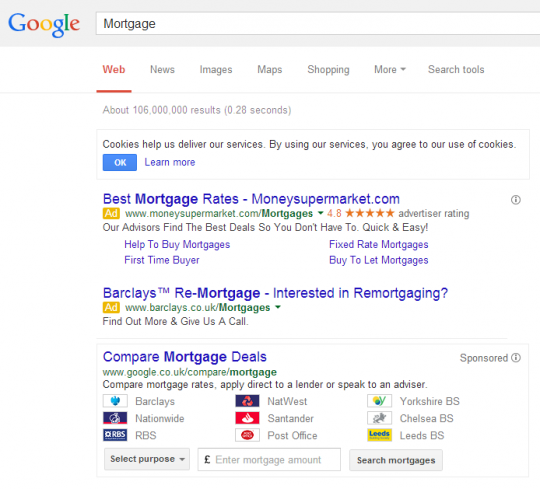 This move was understandable, Google's desire to keep growing and monopolising the internet means that creations such as this are going to be more and more common. At the end of the day, they've reach mass market penetration in the UK, the only way to please the shareholders is to diversify into other lucrative industries.
Brand Bidding is Bad, Unless You're Google
However, it looks like one rule for everyone else except Google, who haven't been following their own rules again. Their position as overlords of the internet has entitled them to take advantage of the very companies that are paying them remarkable figures in Google adwords advertisement and other services.
Scratching your head?
Google's comparison engine has gone a step further than simply appearing for the generic big industry keywords.
A branded search for anyone of the top comparison website rivals will return this: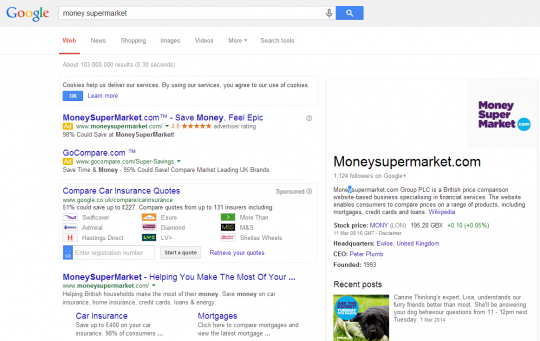 They've effectively done MoneySuperMarket's job for them, how thoughtful…

Despite the fact that MoneySuperMarket will probably be paying incredible sums of money to raise awareness of their brand name, all of which supports their offline marketing efforts, which includes extensive above the line media adverts. Their efforts are being sabotaged by Google's "Sponsored" comparison engine which is essentially hijacking users away from the MoneySuperMarket website. Whilst doing this they're also trying to force the users to adopt Google's own engine instead, which features a list of alternative competitor insurance companies.
In a nutshell Google's comparison engine seems to be a glorified affiliate site.
You thought Google only favoured the big brands…
So what do the big comparison sites do, how would you react? It would appear that they just have to accept it. Thanks Mike… ground breaking revelation there.
This isn't the first time, nor will it be the last time that Google have tried to force users to use their platform over a potential rivals, this should sound familiar? Google are being hypocritical of their own guidelines and company mission statement.
We've all heard that providing a good user experience and unique authoritative content are what Google rewards the most, which makes perfect sense. So why when companies such as MoneySuperMarket provide awesome content, such as this, are they being pushed further down the SERPS real estate?
Kevin Gibbons recently wrote a great piece on how to beat Google in a vertical search, making the point that relying on Google is always a risky game, it's your biggest competitor. It has your mindshare whenever want to find something or buy a product.
Kevin, goes onto to give great examples of how MoneySuperMarket are beating Google hand's down by ultimately using their marketing as an acquisition channel which rewards them for coming back. They're running newsletters, social media, blog, apps, SEO and remarketing to such an effect that a Google search is becoming more and more irrelevant.
And if all that doesn't work, well at least they have Snoop Dog.