Written by Matt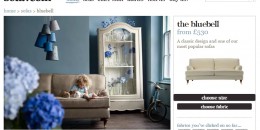 October 8th, 2014.
Creating a high quality product page requires a combination of many different elements. From the content to the layout, a good product page must combine functionality, optimisation and high quality copy.
Presenting your product pages in a way that is useful for both search engines and customers is incredibly important. Many different elements are involved in creating a website that prompts customer action and increases conversion rates.
Cross-Selling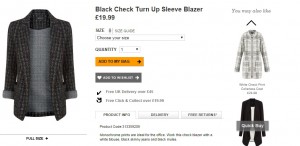 Cross selling is a technique that involves suggesting or recommending products that are similar to the one that the customer is already viewing. For example, when a customer on a furniture website is looking at a sofa, the website may recommend an ottoman, by placing a link to that product somewhere on the same page.
Statistics show that cross-selling increases conversion rates by 3%. It also improves the overall ease-of-use of your site, increases the average value of each order, and provides more visibility to your website's overall range of products.
Example: New Look
Click on any product on fashion retailer New Look's website and you'll not only be presented with great high quality imagery for that product, but also other complimentary items. New Look gets cross-selling right in their "You May Like" sidebar. The complimentary products are prominent, but small enough for the main product to still be the primary focus.
Effective Copy
Effective content is, arguably, one of the most important aspects of creating a high quality eCommerce site. In fact, 60% of consumers buy a product after they've read content about it.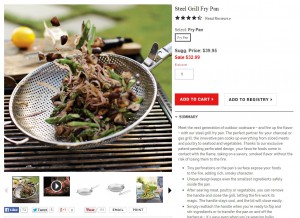 Good copy cannot only increase your conversion rate, but it can also help your site's search engine ranking. If you want to increase conversion rates, you must have an engaging product description written for every product on your site.
It should not only include the dimensions and specifications of a product, but it should also tell the reader why they should make a purchase. It should let them know what makes this product unique.
Example: William Sonoma Steel Grill Fry Pan
When it comes to product descriptions, William Sonoma gets it right. The product description for their Steel Grill Fry Pan combines all the elements of a good product description. It uses adjectives carefully, and cleverly, and provides the reader with information about the product in an interesting and engaging way.
Subtle Use of Keywords
Search engine optimisation is as important as ever for online businesses. B2B statistics show that SEO leads have a close rate of 14.6%, while traditional leads, such as print advertising, only have a close rate of 1.7%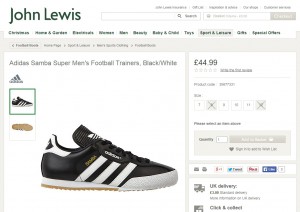 Implementing effective SEO on-page elements can drive traffic to your website, and place it at the top of the search engine results. Search engine rankings are important for your site. According to statistics, 75% of consumers never scroll past the first page of search engine results. If you can get your site higher up in the search engine results, using SEO, it can have a massive effect on your conversion rates.
Example: John Lewis
Using both generic and brand phrases such as Adidas and football trainers, as well as longer tail descriptive keywords like black, white and mens in a way that reads naturally, and actually adds value to the copy and covers longer tail search phrases, John Lewis is a prime example of how SEO can be used effectively. There is also a good amount of descriptive text on the product page that will help the product rank for a wider range of long-tail phrases.
Customer Reviews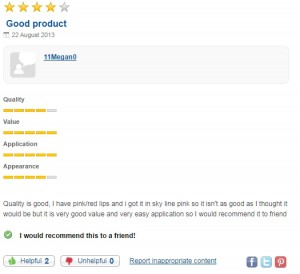 Product copy is one of the most important aspects of a good eCommerce website, but potential customers often want the opinions of "real" people. Allowing customers to leave reviews on your site can increase your conversion rate. Statistics show that 70% of consumers check with reviews before making a purchase.
Example: Boots
Pharmacy, and cosmetic company, Boots allow their customers to leave reviews on products. You can even sort products by customer rating, using the "Top Rated" search criteria.
High Quality Imagery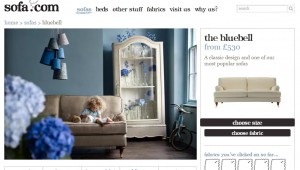 Photographs are a huge selling point for eCommerce sites. High quality imagery makes the shopping experience for your customers better overall. It gives the customer more information about the product, which words simply can't convey.
To increase your conversion rate, offer controllable 360 degree views, photos with products on their own and in use, close-ups and views from multiple angles and perspectives. It's also ideal to use images that are on the larger scale, rather than small images, as these can increase conversion rates by 9%, according to statistics.
Example: Sofa.com
Sofa.com is a fantastic example of how high quality imagery can be used to enhance customer experience. Large, high quality photos, and 360 degree product views, make the viewing experience a delight for the consumer.
Utilise Extras Like Video
Video offers a number of benefits. It increases overall user experience, and provides a fresh insight into the product. Most, importantly, however, videos can increase your conversion rate. Statistics show that consumers that watch a video about a product are 64% more likely to make a purchase.
Clear CTA
While cross-selling, email capture forms, copy, high quality imagery, and videos are all important for increasing your conversion rates, you don't want to overcrowd your product pages. You want the focus of each page to be on the product, and on purchasing the said product. So make sure that you have a clear call to action on your site.
Responsive Optimized Web Design
Nowadays, consumers not only shop for goods on a PC, but they also use laptops, smartphones, and tablets. Providing your consumers with a high quality experience on your sites, across multiple devices can improve conversion rates and ROI.
A consumer shopping from their phone doesn't want to have to scroll across the page. A responsive web design makes a website viewable from multiple devices, without the consumer having to resize the page or scroll across.
Example: Cotswold Outdoor
Whether you are shopping from your laptop, or your phone, the Cotswold Outdoor looks great. A fantastic example of a responsive optimized site, you can view this website on any device, without having to scroll, scale or zoom.