On the subject of SEO
April 13th, 2011.
Using non-standard characters in the page title and meta description tag seems to be a growing trend in many industries. The idea is that by using eye-catching non-standard characters readers attention is drawn to their result first, even in preference to results that may be above them.
The practice of optimising search results to maximise click-through-rate is not a new one and has been used in PPC advertising to good effect for years, but where PPC ads have to go through an approval process (where many techniques are outlawed) meta descriptions and organic results do not, so boundaries can be pushed much further.
Who Is Doing It?
Thanks to @SEO_Doctor @tomsmith1984 @KevStrong @martokus for examples




How Do I Use Special Characters In My Title And Description?
Use of many characters seem to be by trial and error. John Campbell is a man with far more patience than I, and he has tested the indexing of many special characters.
Special characters can be created using Unicode such as,
© is created with:©
® is created with:®
™ is created with:™
A full list of Unicode characters can be found on Wikipedia
What Are The Effects?
Currently there is largely anecdotal evidence for the benefits of an increase in click through rate. It would be difficult to test definitively as there are several other variables to factor-in.
Shaun Anderson at Hobo is well respected within the industry for running extensive tests on theories rather than relying on guesswork, he is running one the tests shown above,
It's incredibly hard to test the impact of this on SERPS in an accurate manner. I am currently running some tests on pages on my site. You need a page with stable rankings, and a stable flow of traffic to get exact results, and that's kind of difficult with the ever-fluctuation of Google SERPS and how changes to the UI (based on query or geo-location – for instance) impact your rankings and clicks on a daily basis – over time – in a natural way. Special characters in snippets certainly get noticed and commented upon, that's for sure. Once you rank, GETTING CLICKED is what it is all about – every little thing that might help, should be tested on for size. You can get a way with a lot in terms of getting special characters in your snippet DESCRIPTION – but not so much in your TITLE link description (Google strips out some special characters from this element if you try it).
I was also lucky enough to hear from Craig Parker at Soula.com who has conducted some tests of his own.
In a short test I ran on a UK based e-commerce site I found implementing special characters in title tags had a small positive effect on click-through but this was not statistically significant, after around a week it caused a small negative change in [Google] rankings.

Implementing special characters in the meta was difficult to get indexed/displayed on the SERPs and provided a very minimal increase, again not statically significant.
The Bigger Picture…
The largest problem with this technique is that the more people use it the less effective it becomes.  how long until our search results pages look like this and nobody derives any benefit from it?
The new and improved version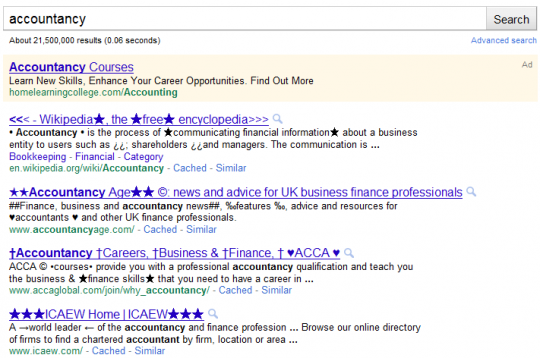 What are your thoughts on this?
Adam
March 11th, 2011.
I've just come across The Print Effect by Cartridge Save. If you haven't already seen it go take a look (then come right back… I'll wait).
What is it? It's a Twitter app that creates an infographic-like page for each Twitter user you enter. There have been similar things in the past, and this particular one I think is genius: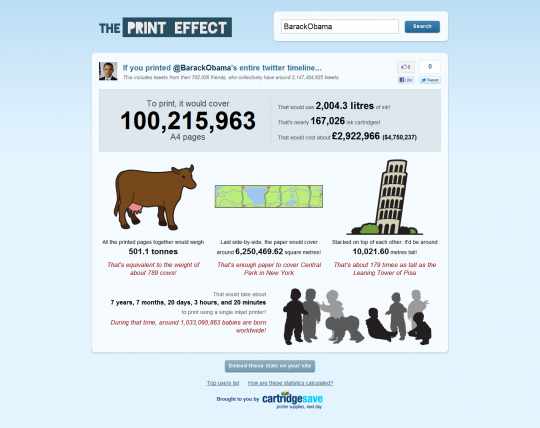 Why is this one a little different to the others? It appears the output content changes for different users (take a look at mine and Matt's- I've got badgers, Matt has cows!)
Why Do I Think This is Such a Cool Idea? (Aside from the cows, obviously)…
Linkbait is getting harder and harder- people are getting bored with infographics and the sharing element to infographics is somewhat limited (I'll happily forward on and link to good content but I'd do it even more if it's about me, the selfish human that I am). This takes on a new twist- linkbait via dynamic infographics!
What I like about this is it's a little different for every user, and people want to share (and link to) interesting things that are about themselves!
As an SEO I would've implemented a different URL structure to prevent creating hundreds of pages for each user, however judging by the shares this has already received I'd be surprised if it doesn't pick up a decent amount of links too.
Perhaps it's time to get a web developer involved as well as the designer or content writer when crafting your next linkbait campaign?
February 24th, 2011.
The current trend of Newspaper sites to publish their content behind paywalls seems to be gathering speed. The recent Google announcement of its OnePass payment system can only increase the process by making payment technology available to a wider audience.
I thought it would be interesting to look to see how the move to paywalls has affected the news sites backlink acquisition rates.
So far the main newspapers that have added Paywalls have been,
The Financial Times – 2002
Moneyweek – 2005
The Times and The Sunday Times – April 2010
The News Of The World – November 2010
The Telegraph is set to add a paywall in September 2011
Taking the two most recent examples of The Time and The News Of The World, and using the excellent Majestic SEO graph functionality we are able to see changes on their backlink acquisition rates.

We can see clearly from the graph above that following the addition of the paywall in November 2010 over the next two months inbound links to The News Of The World fell by more than 50%


Similar, but less dramatic results for The Times. This is slightly more confusing as the paywall coincided with a domain change from timesonline.co.uk to thetimes.co.uk. We can see clearly that link gains to the old URL start to decline without the new domain ever really gaining links as a comparative rate.
Where I see some really interesting data is in the rate of acquisition for competitors sites who chose not to implement a paywall. A close online and offline competitor to both The Times and NOTW is The Daily Mail.

Their acquisition rate starts to climb sharply from the date The Times paywall goes live, and their highest ever month coincides with the NOTW adding their paywall. It'll be interesting to see if the following two low months, December and January are a result of incomplete link data or some other trend.
It's an interesting theory to see of the final few content producers within a market start to perform far better in terms of finance and popularity than those that eventually choose to follow the paywall route.