On the subject of Social Media
September 17th, 2008.
Corporate blogs have become far more commonplace over the past few years as companies begin to realise their importance in the marketing mix and how valuable they can be as a communications channel. Some of my favourite business efforts include,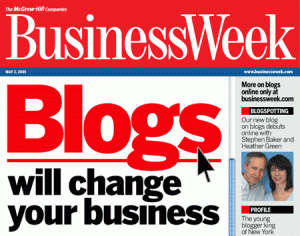 Kodak – I love this effort as it doesn't focus on cameras, but what it's target audience is interested in, the photography.
Innocent Drinks – Kind of wacky and crazy, just the kind of thing you would expect from the company really! It does a good job of keeping things interesting and engaging the audience.
Southwest Airlines – A really nice showcase for the company, great design, interesting content and does a good job of passing company news while keeping things light-hearted.
ASOS – A good example of what can be done with an ecommerce site. It does a good job of focusing on products, but also scatters in industry news.
BBC – Obviously the huge manpower at their disposal and being able to tap some the finest journalistic minds gives the BBC an unfair advantage, but their blog network is among one of the best online.
Marriott – A self-confessed technophobe Bill Marriott proves that it's never too late to start blogging. Not only that but the resulting blog is an extremely useful communications channel.
Waitrose – A great example of what can be achieved when a not so traditional web company takes blogging seriously.
I deliberately left out examples of tech and web based companies to prove that it can be done well for traditionally non-web based companies.
Okay, so what is the point?
Audience engagement – Blogs are a great way of engaging your audience with topics that you wouldn't normally cover on the main section of your site. You can keep company news and conversation clearly defined from the 'corporate' sections of the site while at the same time offering your audience more in-depth information should it be required.
Information gathering – Blogs can be used to gather opinions, get product feedback, collect email addresses and collect RSS feed subscribers. Over time a growing audience is a valuable commodity in itself.
Communications channel – Corporate blogs have been used as an instant communications channel between retailer and customer. Product information, manuals, corrections, notifications and recalls can be made available instantly.
Content creation – An increased number of pages of your site will generally increase the amount of content leads to an increase in the number of search engine visitors. With clearly defined calls to action this should lead to an increase in sales.
Social media – Blog are a great way of opening up the marketing power of social media sites. Visitors can easily submit posts to sites like Digg and Stumbleupon, this directly leads to an increased number of visitors, links and the visibility of your site as a whole. Active blogs generally encourage more incoming links from other sites, so can be a great way of supplementing a link building strategy.
Things to remember….
Get started using a simple blogging script like WordPress. It's pretty much the industry standard, it's easy to use, and best of all it's free.
Keep the blog on your commercial domain. You'll get little benefit from using a hosted blog or a seperate domain altogether. The idea is to get additional visitors to your commercial site. blog.company.com or company.com/blog is ideal.
Define a writing policy. Be clear who your audience is and what will interest them. Also be clear on exactly how much information you're going to make public.
The writing style is important. Traditionally visitors expect a less corporate and more conversational writing style. The use of humour can work well. Ideally your posts should be short and punchy.
Avoid over promotion. It's fine to link to your products and services from within your posts, but visitors won't come just to read a rehashed product catalogue.
Keep things fresh. Your blog should be regularly updated, sharing writing amongst your staff is the ideal solution, outsourcing the writing is another, though is no substitute for your staff knowledge and expertise, staff participation should be encouraged.
What do I write? Traditional topic areas are company news, staff news, product news, industry discussion and thoughts, how to's and resource lists. Ideally the more diverse the topic areas, the easier you'll find things to write about and the bigger the potential audience.
July 20th, 2008.
RSS (Really Simple Syndication) can become an invaluable tool if used correctly. Although the use of RSS is usually reserved for techies, it is only a matter of time before this technology is embraced by regular web users.
RSS feeds are designed to aggregate multiple feed of information by grouping and storing topics of interest into one location. Users can browse these feeds at their own leisure safe in the knowledge that they can access the latest information relating to their chosen interest. If you are interested in a particular subject, (i.e. football) you could visit a site that exposes its content via RSS and subscribe to it. Now, at your own leisure you can check your RSS feed and browse the latest feeds (or newly posted information) in a uniformed and sortable format.
Each item within a feed contains a title, date, summary and sometimes videos and images. If the topic is of particular interest, you can click the feed link and jump off to the source of the feed (web site) to read more. This is a much cleaner and efficient way of keeping up to date with topics you are interested in rather than trawling the internet and storing lots of bookmarks. This way the information comes to you without having to lift a finger. Users are completely in control of the information they receive as unsubscribing is just as easy, if not easier that subscribing. You remain totally control of the flow of information. RSS feeds are a huge time saver and can boost you productivity .
Types of RSS feeds:
Blog posts – Receive updates every time a new blog is posted
Article Feeds – Get summaries or articles written about a particular subject
Forum Posts – Receive updates each time user reply to a particular forum post you are interested in
Retail Feeds – Many ecommerce sites are publishing whole product lines as RSS feeds. Each time a new product is added you'll be notified
News Feeds – Receive breaking news from sites like Google
Industry Specific – Keep up to date with industry related articles, news and reviews that maybe related to your industry
Subscribing for RSS Feeds
The best way to do this is by registering with a Feed Reader site like Google Reader, which allows you to store all of you feeds in one central location online. This is a simple process especially if you already have a Google account. Once you have done this you are ready to start subscribing to RSS feeds. The next time you see an RSS link or image simply click it, choose the feed reader you have registered with from the dropdown menu and click subscribe. You'll instantly have access to the entire feed displayed in chorological order.

Create your own feed
If you publish regular information on your site you can benefit from publishing this as an RSS feed. You have nothing to lose and everything to gain. By not having an RSS feed you are missing out on an opportunity to keep your customer / audience informed on what you business is up to. RSS feeds should be thought of as a free promotional tool. You'll be able to relax safe in the knowledge that as soon as new information is add to your site users will be informed. This will bring in more site traffic a users may want to find out more or purchase products