On the subject of business initiatives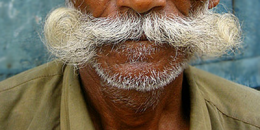 Martina
November 1st, 2012.

What is Movember?
Movember (a combination of the terms Moustache and November), is an annual national incentive welcomed far and wide by mo bro's (Movember brothers, I think) who help to raise awareness for men's health, specifically prostate cancer and other male cancer initiatives, by the growing of their moustaches.
The idea was launched circa 1999 by a group of 80 guys in a pub in Adelaide – and since then has gotten great publicity for it's cause, with ambassadors including many well known celebrities  such as Justin Bieber, Snoop Dogg and UFC Lightweight Champ Frankie Edgar.
The campaign has even gone on to partner with Google Chrome to create a video:
Great! – What can businesses learn from Movember?
Aside from the success that comes with the genuine promotion of a charitable cause, there are many things all business owners and it's employee's can learn here, including:
1) Teamwork increases the odds of success!
It was a team of 80 guys that first started the initiative, not just one. Now, while it is entirely possible to begin something on your own and grow it from there, it is so much easier having people agree on the same thing from the start.
Aside from the team of people being on the same wavelength, being part of something gives it more power, which gets things going faster than if you have to wear all the hats yourself!
2) The best gains can be gotten through giving something away!
There's a reason why on your lunch-break, if you're lucky you'll see a coca-cola van parked up, attached to a trolley full of free drinks it's giving away – branding.
Being known to seduce potential customers with your product is an age-old tactic and is regularly used, use it!
The original mo bro's gave away their freshly shaven upper lips and gained tonnes of cool-points in return.
Whatever your business niche, offer up some freebies! It might lose you money in the short run, but could very well gain you leads and will strengthen your brand awareness in the long run.
3) People outside of your niche, will help you – if what you are doing helps them!
With the recent banking scandals and shortfalls related to the Olympics, it might be hard to believe it, but people like to be nice! – Even more so when other people appreciate their niceness.
One example of this is Qantas –  the flag carrier of Australia, who painted a moustache on one of its airplanes in aid of the charity in 2011.The famous 'tache can also be spotted at the Qantas terminal where it is displayed proudly on the entrance building:

The business of aviation isn't particularly well known for charity among the masses, however Qantas getting involved in this shows that it doesn't matter what you do, it will be recognized if there is genuine goodwill behind it!
4) Forget paid promotion in hopes of going viral, if your idea/cause is a good one, that is PR enough!
It's true you can buy your way to a million views on YouTube and etc. but I'm guessing the satisfaction isn't nearly as close to when something genuinely takes off!
Of course working with internet giants Google can bring any cause to the attention of the masses, mostly because Google pretty much run the inter-web. However, it wasn't Google that shed light on Movember alone.
The charity worked its own way to the forefront for many reasons the biggest being that it relates to men, who make up a huge scale of the population!
Allowing/encouraging others to get involved in your cause, means they'll feel closely related to it, and if it appeals to them personally they'll be even more likely to continue or at least acknowledge it among peers.
After that, going "viral" is almost the next step, simply because people will want to be a part of something so good!
---
Ask Men's Movember movie comedy short:
MovemberTV: Movember's Impact on Awareness