On the subject of EU legislation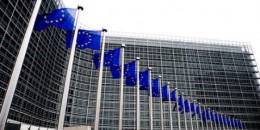 February 13th, 2014.
A new EU directive has made its way into UK law.
The purpose of this new legislation is to both increase customer rights when buying online, and make expectations of customers more consistent across the European Union, thereby increasing cross-border trade through online stores.
We all remember the cookie fiasco of 2011, the last major attempt at enhancing the rights of the internet user. The UK government not only failed to enforce it, but even to comply to their own law. Due to strong resistance and powerful arguments against the law, it was revoked in 2013.
Will this new push for user's rights follow a similar fate?
10 Second Summary
To make customer rights more uniform across Europe via:
Increased minimum cancellation period

Obligatory refunds within this period
To increase customer rights by:
Forbidding auto-ticked checkboxes

Using clearer, less attractive language on the 'Buy' button
There are many other changes to be made in response to this directive, but the above represent the parts of the legislation most likely to affect online retailers in a big way.
When Will This Affect Us?
The law is set to come into effect in the UK on the 13th of June, 2014.
Some things are likely to need changing before this date rolls around. We'll need to retrain our staff in regards to dealing with returns, cancellations, refunds, and customer service in general.
Terms and conditions will also be affected, as well as the code responsible for auto-ticked checkboxes, and the text for the 'Buy Now' button is going to get a little uglier, I'm afraid. Let's get into specifics.
Shall I Click "Buy", or "Order With Obligation To Pay"?

Words like "buy", "confirm" or "place order" are now apparently too vague and open to interpretation to describe the button that leads to payment.
"Order with obligation to pay" is the phrase our customers now have to read and agree to before buying from us.
One of the biggest arguments against the old cookie law was that it put other countries, particularly the US, at a significant advantage, since their websites didn't include pop-ups which, to those that don't know what cookies are, looked like a request to infringe on their privacy.
The buy button thankfully occurs a lot further in the buying process, and is likely to have less of an impact.
Sales may be lost, however, and they are not sales that depended on people not knowing what they were clicking on. It's a wonder why this was deemed as a necessary change.
If the cookie law was a reaction against the thought of websites tracking our movements, is the buy button law a reaction against the thought of the 1-Click button?
We can deviate a little from their suggested script, as long as it remains explicitly clear that by clicking the button they are entering into a contractual agreement that ends in payment. Clearly, it's up to us to interpret this detail to a degree.
Whatever the case, the change to buy buttons is just one part of this legislation.
Say Goodbye to the Presumptuous Tick Box
When a page loads, any checkboxes that relate to a add-on service must be un-ticked.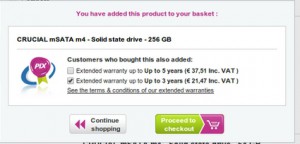 From July onwards, if you want your customers to sign up to your newsletter or add some extra insurance cover to their purchase, you'll have to make the prospect compelling enough to have them tick it themselves.
Most customers have now been trained through experience to look for checkboxes they have to opt out of before clicking confirm. No, it doesn't build goodwill for a brand, but it still goes on. You can see how this is in the same line of thought as the buy button changes, the difference being that these checkbox changes are likely to be a genuine improvement in the buying experience.
Adopt a German Attitude Towards Refunds
The "right to cancel period" will be expanded from a minimum of 7 working days to 14.
This is to align the rights of customers buying from a UK retailer with those of customers buying from other EU countries, such as Germany, who already enforce a 14 day right to cancel period.
Refunds for products will be obligatory within the right to cancel period, on the condition that the product is returned with its value undiminished by carelessness. Even if the customer has cancelled, the retailer can withhold refund payment until the product is properly returned, which most of us will agree is fair enough.
It seems that these changes to refund policies are weighted to be fair to both parties, but they will require some attention be paid to our terms and conditions before enforcement comes into play in July.
The benefit is a consistent customer experience across Europe, which should result in more cross-trade online, and a wider reach for small UK retailers that don't have the budget to expand operations overseas in a physical capacity.
How Do We Protect Ourselves from Prosecution?
If you're hoping for a similarly lax enforcement practice as we saw with the cookie law, you're in good company. Perhaps a revision to the surprising buy button policy will occur in time, but until then, any UK business owner who acquires sales online will be at risk of prosecution without making the necessary changes.
You can read the official document here (PDF), which includes model cancellation forms and detailed descriptions of policies we've covered here.
The most visible loose ends we will need to tie up are the buy buttons at the end of our buying sequences, the add-on checkboxes that appear at the same stage, the statements made in our terms and conditions (even if it is only the enforcers who will read them), and the wording of any relevant forms available to our customers.
Be sure to educate yourselves and your staff on all the relevant changes. There are many others included in the document above, including changes to content classification, and to information available through customer support helplines.