On the subject of product layout
February 4th, 2009.
Grid style product layouts are now the norm and dare I say it, a little bit dull.  And just as you are congratulating yourselves on getting all your ducks in a row, as it were, the big players are moving on and showing some more innovative ways of displaying products.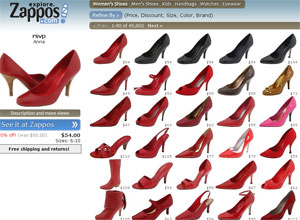 Again Zappos lead the way with their Zappos Product Explore – click on a product you like such as a Red Stiletto, you are then shown 54 similar products in a matrix. Horizontally you see products that are similar in style (more high heels in other colours). Vertically you see products in the same colour (red sandals)."
Compare this with Clarks new website which though quite good, (especially on customer service) pales in comparison to its US rival with regards innovative product display.
Check out also some other retailers daring to try something a little bit different.
Amazon WindowShop – turn on  your speakers!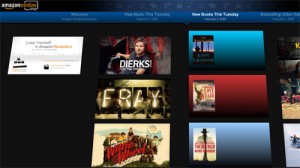 Apple iTunes Cover Flow