On the subject of site search result page test
Jan
April 19th, 2011.
In the site search box test part 1, we discovered by analysing web analytics data that visitors using site search are 2-3 times more valuable than those that don't use site search. Conversion rate difference was also by 168% higher when site search was used. Also, per visit value was 132% greater when site search was used.
In the second part I would like to talk about more advanced, more costly but probably more rewarding test – a site search result page test.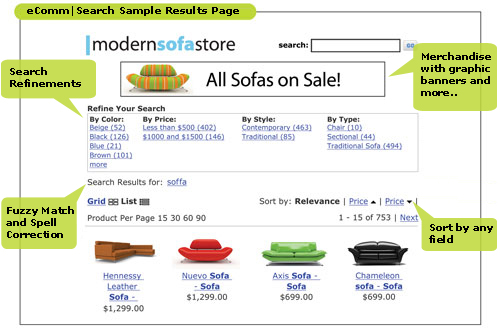 Who is this test for?
Any website where the site search result page doesn't allow result filtering by category, price, brand etc… or simply looking to improve search functionality, stickiness, conversions and retention by using more robust, intelligent 3rd party site search.
Goal of the test
We would like to find out if using more sophisticated 3rd party ecommerce site search will help you to increase your conversion rate and whether the investment is worth the money.
Why should you test?
You read a case study that better search result pages convert more and that visitors who use site search convert 2 – 3 times better than those not using a site search. You get very excited and decide to approach a 3rd party search provider. However, you discover the investment into a new site search can be substantial (e.g. $25,000+ annually for Google ecommerce search) so you would like find out if you can justify the cost.
How should you test?
What you want to do is to test both site search engines at the same time, something like A/B test comparing 3rd party site search vs. yours. However, there is a caveat. A/B testing won't work in this case, as the site search box, where it all starts, is on every single page on your site and you would like to capture any search query from any page on your site. So, for this reason we need to set up a site wide test using a multivariate test strategy, showing exactly the same site search box, but the results leading either to your current site search or to the 3rd party site search you are trying to evaluate.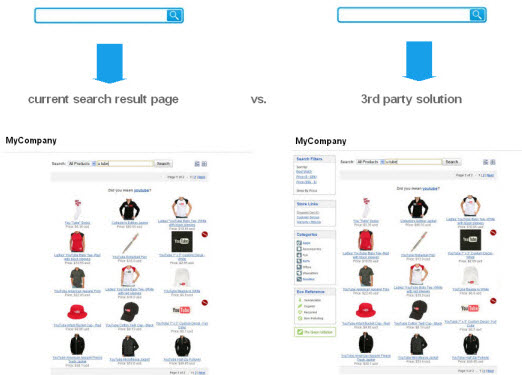 How do you measure success?
By comparing number of sales and a conversion rate in your testing tool
How many visits with site search do I need?
At least 5,000-10,000 visits per month with site search. For fast and statistically valid result 20,000+.
Recommended solutions:
Nextopia – $950/year for 10,000 search queries, $2,495/year for 100,000 search queries
Sli-systems – price not known
Google – from $25,000/year
Contact Jan to see how we can help you with your  ecommerce site search testing, A/B or multivariate testing or to request your free consultation: jan@datadial.net or call 0208 6000 500 ext. 231