Your site layout not only determines the ever important usability, and how easy users find it to navigate, but also plays an important part in the technical side of search ranking.
How they crawl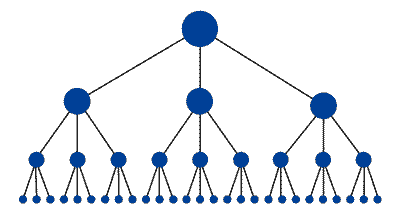 How easy a site is to navigate translates into how easy it is for a web crawler, the tools by which search engine algorithms search and assess websites, can navigate and index your website. If the web crawler can't do this easily, your search rankings will not be favourable.

You should be aware that crawlers have a 'crawl budget', dictating how long they will spend crawling a given site at a given time. The less authority a site has, the lower the budget. That means you've got a limited amount of time to impress.

Imagine yourself as a bricks and mortar retailer. You want to arrange your stock in a way that makes it as easy as possible for your customer to find what they want. Now think of these web crawlers as a mystery shopper, assessing the way your store is set out and using those results to recommend (or not) your business to others.

The site structure is the framework of your entire digital presence. Optimising it provides a smoother, more enjoyable user experience, but also delivers tangible benefits to search rankings.
Your site layout not only determines the ever important usability, and how easy users find it to navigate, but also plays an important part in the technical side of search ranking.
Plan the hierarchy
Sites should be structured with the homepage at the head of the tree, with roots of category, subcategory, and further pages such as product pages logically linked, using an easy to follow process.
Keep it simple
Be sure to name each section in a logical way that mirrors the terms that users will be searching for.
Watch your crawl depth
Aside from a crawl budget, web crawlers like Googlebot also dislike too great a 'crawl depth'. That's a reference to how far down a chain of links a web page is hidden. Keep things simple, categorised, and don't send crawlers down a dark and winding digital alley.
The sitemap
You've gone to the effort of planning and implementing a well laid out domain. Make sure and create an XML sitemap to derive the full value from having done so.

These are a quick, easy way for webmasters to inform search engines about the layout of their pages and how best to crawl them. The crawlers will find their way across your website anyway, but think of this like giving them a roadmap to make the process that bit easier.
The URL

These are the signposts for your users. A good URL can make a huge difference in user experience and the resultant web traffic that you receive.
Shorter is always better than longer.
Make it read naturally for a human.
Use relevant keywords where possible.
When possible place content on the same sub-domain to preserve authority.
Create sensible internal links
Internal links point to another page on the same website, and how these are implemented can directly impact your SEO. Ensure the anchor text used as the basis for the link uses a relevant keyword. Use of the word 'here' to indicate a link is dated and terrible for SEO. Internal linking provides further data for crawlers on relevancy and detail of your site layout. They allow users to navigate through your website, help establish information hierarchy and help spread what's known as authority', or the metrics of ranking, throughout your site. Again this is a logical process. Ensure each of your web pages has a link from another page on your site, and to another page on your site. Follow the established hierarchy of your web structure. And don't just throw links in all over the place.
Redirect with 301
Sometimes your website will quite naturally end up with several different versions of a piece of content in multiple locations. There are a number of valid reasons this can happen, say the change of name of a product requiring a new URL. Well discuss the idea of duplicate content itself in more detail, but in architecture terms 301 can be a great help.

With all these pages of similar information, which should crawlers crawl? Use a 301 HTTP redirect to direct crawlers to the relevant content. It's important you use 301 and not 302, as 301 actually distributes 'link juice'. How much juice? Open for debate, but a recent 301 redirect study suggests as much as 15% could be lost.
Canonicalize!
Canonicalization is the process whereby you direct search engines towards the original version of content.

Do this by adding the tag rel=canonical as part of the HTML head of a web page. As below:
This method passes around 90% of the 'link juice' to the original content and is quick and easy to implement.
HTML or CSS should be your building blocks
HTML is the original building block for the World Wide Web, but it's come a long way since. HTML and CSS should still be the fundamental tools for good site building. Fancy coding with JavaScript, Flash and others can reduce a crawler's ability to fully index your site.
Make it HTTPS
Google wants to see websites running on secure HTTPS servers. That's important enough in itself, and provides a small ranking boost. On top of this more and more browsers, and indeed users, are savvy to the possible security problems of alternative servers. Hosting on secure HTTPS can be a real benefit for your traffic and ultimately your search rankings. This video offers a look at the technical sides of these challenges for you.
SUMMARY
In Summary, there are 3 main benefits to proper site structure:
The structure is in place, it's time to optimise your pages.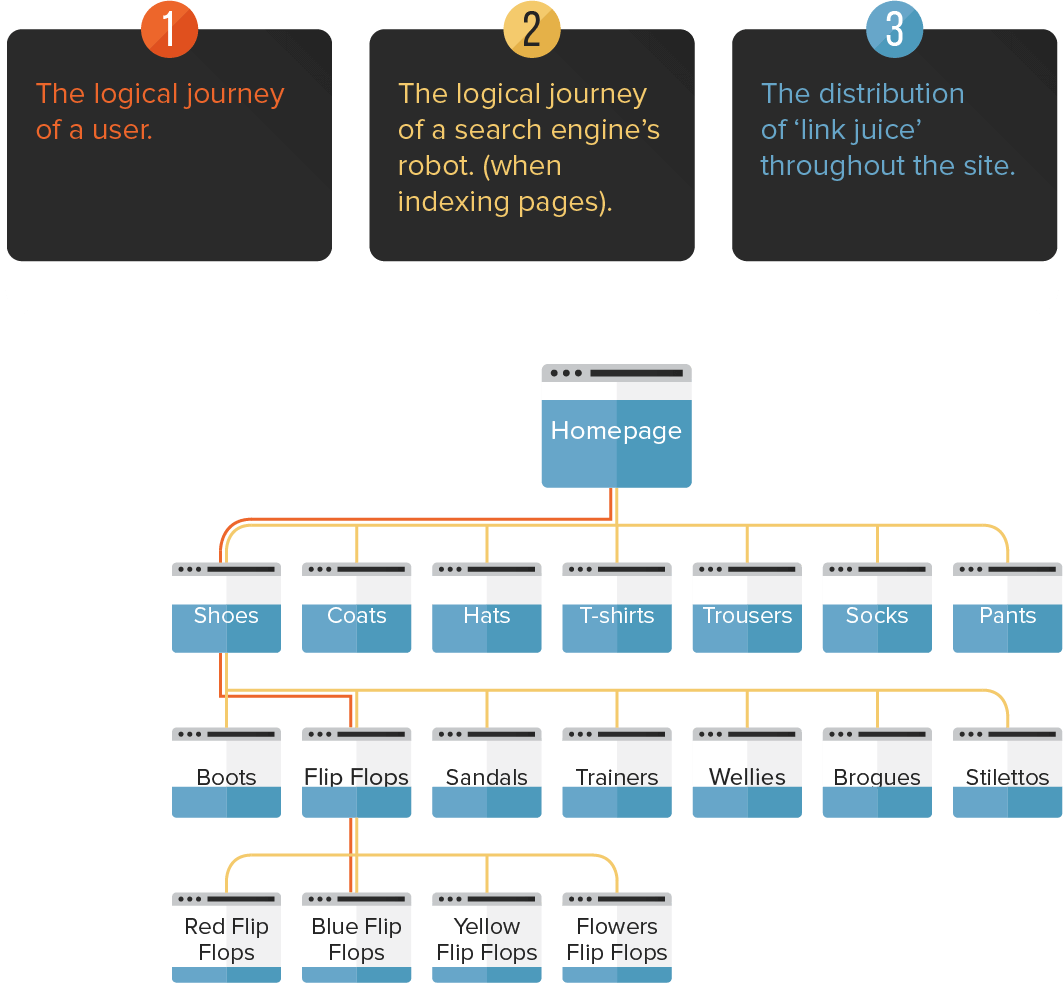 Further Reading
How to Create a Site Structure That Will Enhance SEO:
https://blog.kissmetrics.com/site-structure-enhance-seo/
Chapter 3: Site Architecture & Search Engine Success Factors:
http://searchengineland.com/guide/seo/site-architecture-search-engine-ranking