Chapter

01
HOW TO IDENTIFY A GOOGLE PENALTY

The first step, before you do anything is to find out exactly where you stand. Have your sales or traffic dropped suddenly, and you're looking for reasons why? Or do you know for sure that your search rankings have dropped because you've been diligently tracking your keyword rankings?
If you're not completely on top of your website metrics already, it's time to get some clarity. You might be in panic mode, but try to step outside of that state for the moment.
It's never too early to get on top of your data, and it's never been easier.
How to Keep On Top of Your Data
For most people it's not feasible to search through 50 pages of Google every day to see where you rank for the keywords you're targeting. Fortunately, tracking your search visibility doesn't have to be time consuming.
Google Analytics
Of all the software in your SEO arsenal, Google Analytics is going to be the foundation and the tool that you will refer to most. It's free, feature-packed, and provides the backbone data for many of the other SEO tools.
Click here to view an in-depth guide on setting up Google Analytics.
Google no longer provides the specific keywords that people are finding your site through, but you can still see at a glance the general health and historic changes to your organic search traffic.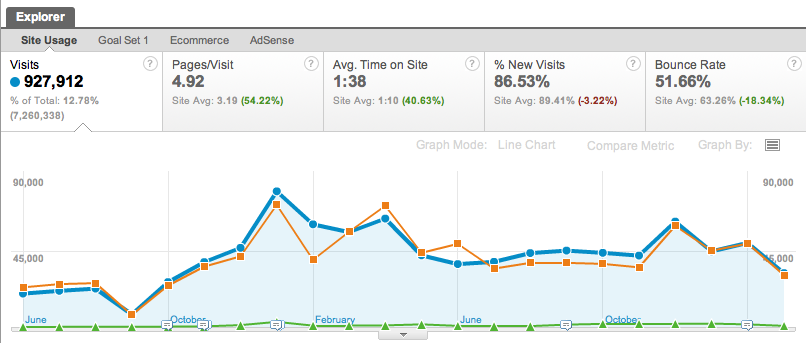 Webmaster Tools
Another fundamental step to solid SEO best practice is to sign-up to Google's Webmaster Tools.
Just as with Analytics, GWMT is free, and it will be instrumental in some of the steps we'll go through in subsequent chapters.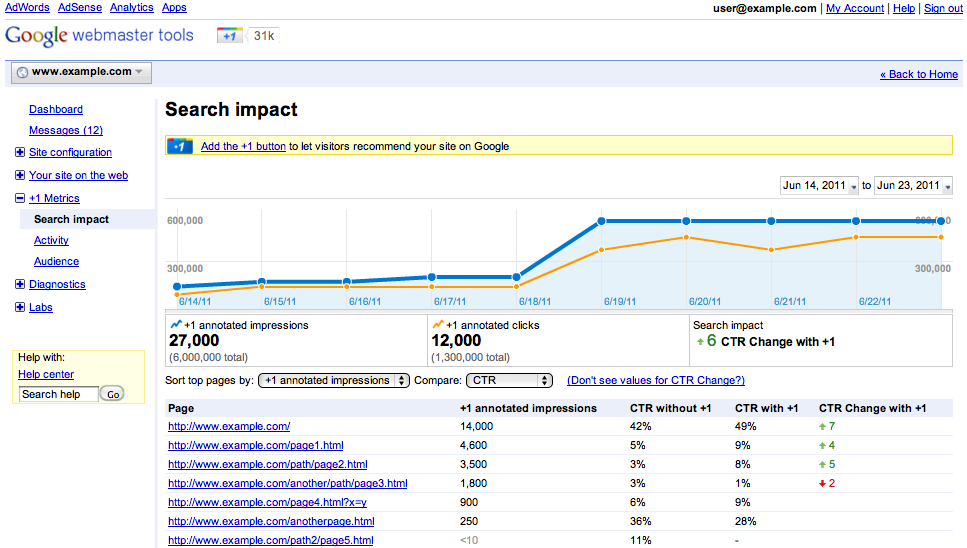 Moz
One common tool for tracking SEO specific metrics Moz's rank tracker.
In order to use it, you'll need to have Google Analytics linked up to your site, and be a Moz Pro subscriber. If you like you can use their 30 day free trial, which is fully featured, and should be enough to help get you through your penalty recovery.
However, it's not necessary. We can use the free subscription for our purposes through this guide.

Searchmetrics
Searchmetrics is a fantastic tool that quickly gives you a snapshot of historic search visibility. So you can use this to quickly pinpoint potential issues as well as identify when they occurred.
The tool is paid, but the free version will still show you your search visibility over the past few months.

Is it Too Late to Start Tracking Now?
It's never too late to get a handle on the data that impacts your sales funnels.

There will be a lot of data unavailable to you if you have done nothing to track your site up to now, but that's all the more reason to start as soon as you can. As you start making changes to your site, the differences you're making will be shots in the dark unless you are effectively tracking them and monitoring their progress.
We'll talk more about this in Chapter 7, but for now, if you haven't at least got Google analytics installed and signed up to Google Webmaster tools, doing so should be your priority at this point.
Remember, SEO takes time. Don't be tempted to make rushed decisions that may end up costing you in the long run. Do the necessary due diligence now, and it's sure to pay off later on.
Different Types of Google Penalty
1) Algorithmic Penalty
These kinds of penalties or filters are automatically triggered by the Google algorithm and are rolled-out during an algorithm update or following the detection of behaviours that are considered outside of Googles guidelines.
Check to see if a major update has recently occurred if you've been hit by an algorithmic penalty seemingly out of nowhere.
Here are the major Google updates of recent years:
1. Panda (2011)
This update targeted content farms and thin, boilerplate content. Keyword stuffing, nonsensical text, and duplicate content were targeted and penalised.
2. Penguin (2012)
With this update, Google attempted to make an example of sites that were gaming the system by obtaining links through paid means, with automated link-building software, or other low-quality scalable links. We'll go over link profiles in more detail soon.
3. Hummingbird (2013)
Google has been a big player in developing software that can better understand human speech, this is largely aimed at preparing for an increase in voice queries searched from mobile devices. They've employed such advances in their search bar with this update, which made the algorithm better at understanding more complex and verbose search queries, and the intent behind them. In the long run, this update promises to bring everyone better mobile search results, but for many site owners it has hurt traffic coming from longer-tail search queries.
2) Manual Review Penalty
A site owner is notified of a manual review penalty through a message in Google Webmaster Tools. To lift this penalty you will need to take action which will be manually reviewed by a member of Google's webspam team. We'll get into in Chapters 5 and 6.
It's impossible to know when a manual review might strike if you're in danger of one. Given the sheer volume of websites online today, and the comparatively limited workforce of Google, it's likely that a manual review will have to follow an automated flag for "suspicious activity" and there for likely that 'manual penalties' are still in the main triggered algorithmically.
To try it out, go to Webmaster Tools and click on the "Manual Actions" link under "Search Traffic."

You'll hopefully see a message that says, "No manual webspam actions found."
1. Site-Wide Manual Penalty
Nothing is more serious in the SEO world than a site-wide manual penalty.
If Google has slapped your site with one of these, I'm afraid it means they see your site as spam in their search results. Usually a site-wide penalty will significantly reduce your rankings severely or put a cap on them (keeping the site on a deep page in the search results). Other times, the site will be deindexed completely – blacklisted even for your brand terms.
2. Partial Manual Penalty
When a manual reviewer believes that on the whole you're on the right side of their guidelines, but you have a few pages or links that are not acceptable, your site may be penalised to varying degrees while other pages, rankings or links remain unaffected.
Ignoring partial manual penalties is an option, if they haven't significantly impacted any important pages or key terms that you're ranking for.

As in the above example, partial penalties can sometimes affect only a number of the links pointing to your site, or it could affect one page, or a group of pages. The extent of the damage will only be clear if you've been tracking your metrics on Google Analytics or a similar site tracking software.
If your search engine traffic, or more importantly your
sales
seem to have been left unscathed, it might not be as pressing to take action immediately, just something to look into at some point in the future.
Identifying the Problem
1. Check Indexation
Search Google for
site:yourdomain.com
This is known as search syntax, and using "site:example.com" limits your search results down to that one domain. Therefore, if nothing comes up, you're not in the Google index at all. If you're not indexed, then it is likely that you have been blacklisted.
It usually takes anywhere from a day to a week for a brand new site to be indexed. Once it is, being removed can only mean one thing: A full sitewide penalty.
2. Manual Penalty Notification
Head over to Webmaster Tools to see if you've been sent a note of your penalty. Assuming you're already signed up, you can go over to the side bar, click "Search Traffic > Manual Actions".
If you haven't received a notification of a manual penalty, then your penalty is probably algorithmic.
3. Check Your Major Keywords
If your site is indexed and showing up in Google when you use the hyper-specific query mentioned above, and yet your visits or rankings have definitely dropped, try searching for
site:yourdomain.com mainKeyword
Swap out "mainKeyword" for whichever your best search terms used to be. See if any of them are no longer showing up in Google. If one or more of your best pages are no longer showing up for the keyword they targeted, you may be suffering from a partial penalty.
Search for your brand name, which is essentially the primary keyword of your company. It may be that you're indexed (passing the "site:" syntax test), but pushed so low that it makes no difference. If you're not on page one for your brand name, there's something wrong.
4. Check Pagerank
Go to PRchecker.info, and add your domain in the search bar. If your Pagerank is lower than it used be, or is stuck at 0 or even N/A, that may be a sign you've been penalised. Note: Pagerank is rarely updated, so this is less effective with recent penalties.
5. Check Visitors
Check Google Analytics and look to see when visits dropped.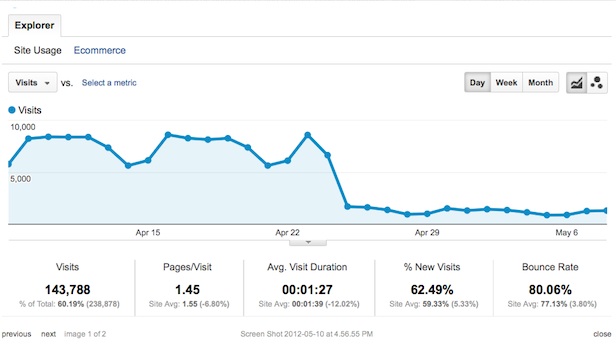 Look back over your records of the months leading-up to that drop. Did you order spammy links the week before? Ask for records of activity from your SEO agency or other freelancers working on the site, if you have any.
6. See How Updates Have Affected You
Head over to Fruition.net.
This tool is remarkable. Assuming your site has been linked up to Google Analytics, Fruition will show you how many times your site has been affected by a Google update, and whether you were affected positively or negatively.
They keep the last three months of data withheld in the free version, but the paid version is inexpensive (1-2 $20, 3-5 $75, 6-10 $95, and so on)
In the example below, the site had been positively affected by every update up to August 2013, but after that, Google's updates started to hurt it.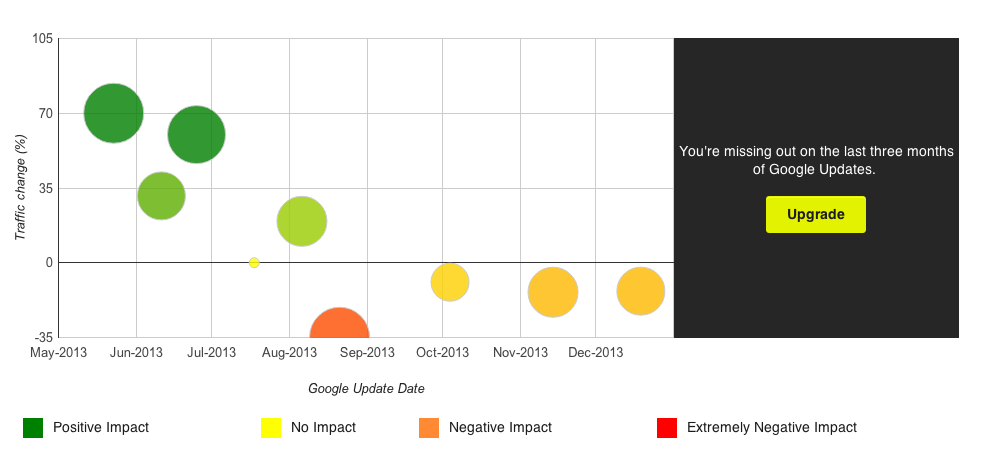 Hovering over each update impact reveals more information.
The data Fruition presents us with are estimations, not exact figures, and sometimes they can be a little "off", but most of what you'll see will prove very informative, and will be especially useful if you've suffered from an algorithmic penalty.
Summary
By now you know everything you need to identify exactly what has happened to your site and why. Let's go over some key points:
Tracking Your SEO is important at every stage of your brand's online presence. Google Analytics gives you the basics for free, and paid software such as Moz Tools can help you keep a clear view of your SEO on a daily basis.
Algorithmic Penalties will not require a reinclusion request, nor the need to talk to anyone at Google. This is between you and the algorithm, and all you need to do to reverse the damage is to clean up your SEO and stick to best-practices from now-on.
Manual Penalties can be partial, and affect a select number of your pages, or it can be sitewide and hurt the rankings of you entire domain. To reverse a penalty of this nature, we're going to need take action, some tact, some proof, and a dab of persuasive skill, all coming up.
Use Fruition.net to see if you've been hit with an algorithmic penalty.
Use Webmaster Tools to see if you've been hit with a manual penalty.
Now that you've got to the bottom of the nature of your penalty, it's time to uncover the source of it. With that, we can quickly decide what the most effective course of action to solve the problem.
Excited? Let's go!
Want do download a PDF version of the guide?
Need help with link clean-up or penalty removal?
Contact us