Increase Conversion rates – advanced techniques
I spend a lot of my time going round E-commerce conferences picking up new ideas and tidbits for improving e-commerce sites.  Nearly everyone is offering software that will increase conversion rates.  It's tempting to think that if one were to buy into all of them that conversion rates would run at 100%!
This article is aimed at e-commerce managers who have covered the basics of increasing online conversions (read article) and now want to move it up a gear.
Advanced techniques for improving conversions rely on optimising landing pages, intelligent online merchandising and recapturing people once they have left your site.  A lot of the software being offered is cookie based – that's to say they that user behaviour is tracked using cookies and appropriate offers and products are then presented to them based on their search, click activity.
Here are a few which stand out – where possible I have suggested the sort of company that they are most appropriate for.
Intelligent Search
Most websites just have a standard search that their web developer has implemented, usually without a whole load of thought or cleverness.  This may not be out of laziness, however, as delivering a good search tool is actually quite tricky (ask Bing/Yahoo etc).
It stands to reason that if you are able to provide users with the results best suited to what they are looking for that they are more likely to convert.
Many companies specialise in providing intelligent search solutions that learn as users search, and that give users the options for how they see results.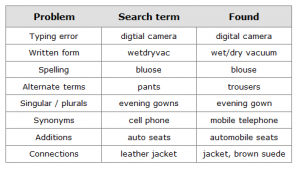 FACT-Finder at http://www.fact-finder.com
Celebros at http://www.celebros.com
Both these companies offer a similar service whereby they integrate their search software with your data information so that when people search they receive intelligent results.
Best explained by copy from Celebros's website:
The search engine can easily return accurate products to any query your customer would make:
Simple queries: Salesperson understands the product searched for and returns results with precise refinements based on your catalog
Complex Query: Salesperson understands which family of products (category) is concerned, and displays products that match the attributes queried (e.g. "dry-hairshampoo")
Spelling Mistakes: dictionary-based. Salesperson detects and understands any spelling mistake a shopper might make
Synonyms: Salesperson automatically suggests synonyms to fit your catalog and business domain
Missing brand or product: if the shopper queries for a missing product, instead of returning the usual "no results found" page, Salesperson will offer your customer the choice of similar product
Price-based queries: Salesperson is able to handle queries with price terms and price relations (e.g. "shirts under $20)
All contribute to increasing usability and the quality of results and therefore conversions.  This also includes the display of any ancillary information on the page (i.e related products) as well as just search results.
Intelligent search solutions are for retailers with large inventories of products and particularly a range of products that have a wide nomenclature, that is products that can be referred to in many different ways e.g sofa, couch, settee, suite.
Behavioural Merchandising

Avail Intelligence is a company so confident in its ability to give you a good return on your investment that it offers an ROI guarantee. Avail offers merchandising services geared toward your target market. Products are displayed and personalised for every single customer.
Avail Behaviour Merchandising is a tool that lets retailers automatically recommend the most relevant products for each visitor. It makes the online shopping experience more personal. Every step in the buying process is identified and handled separately.
The company promises immediate increases in conversion rates as well as higher average order values as the software helps buyers find what they want (even if they didn't know they wanted it).
Whilst better for larger retailers, Avail have solutions starting at £200/month for smaller retailers.
Hook logic at http://www.hooklogic.com

Let's be honest. Consumers have too many product choices with very little differentiation between them, and as a result they're much more adept at price comparisons and finding deals.
Based on user behaviour Hook Logic incentive programme allows you to feed in appropriate offers to users whilst  they are on your site thereby giving the user an extra incentive to add the  item to their basket.  See below

The Hook Logic Incentive manager leverages targeted incentives. The goal is to get more prospects to climb into your sales funnel.
According to their website Hook Logic will
Increase leads
Increase conversion rates
Increase average order value by 20 percent or more
Deliver personalised incentives through marketing channels
This solution is really geared for large retailers with high site traffic and where price comparison is easy.
Rich Media Merchandising

10 CMS integrates interactive overlays on your product imagery. These overlays feature live merchandising data. They transform home, category, and landing pages. They could transform your customers' interest into a "must have" mentality.
This is done with mouse-over hotspots embedded within lifestyle media. These inspire customers and personalise options. It creates a sense of urgency and encourages customers to "buy now."
This is a fairly low cost option and a great opportunity to respond to customer trends. It's easy to use, intuitive and it integrates with catalogue and merchandising data for fast development. You don't have to be a tech expert to deploy rich media content and interactive elements
Again with a starting price of £10-15k this is for larger retailers but is a nice add on especially for high end luxury brands.  They claim to have increased conversion rates by 100% for some clients.
Personalized Retargeting

My things media at http://mythingsmedia.com
However much traffic you get, it's likely that 98% doesn't convert on your site.  But what if you can catch them elsewhere and bring them back to your site.  Mythingsmedia does that by re-targeting highly personalised ads to users once they have left your site  using information based on their buying and search behaviour.
This is very simply how it works:
1.  As visitors enter your website, they are tagged with a cookie.
2. If the user leaves the site and later enters one of the thousands of network sites associated with Mythingsmedia they are delivered relevant advertising based on their previous shopping and search patterns.
3. This advertising banner is served to each individual as a personalised shopping window – enabling instant conversions.
Personalised advertising is the key phrase here. The idea is to make sure every impression for every ad is optimised with relevant content based on the consumer.
For a more detailed (and better) explanation – watch their online video.
The cost is based strictly on conversions and they claim to double your return conversions.
This service is suitable for online retailers of significant size and who receive significant traffic volumes.
MyThings Presents: Personalised Retargeting from mythings on Vimeo.
Consumer Product Reviews

Feefo at http://www.feefo.com
Product review are common place these days.  But there is often a niggling feeling that the merchant has cherry picked the good ones to put their site.  Feefo is an independent review service that the merchant cannot interfere with.
This is how it works.  When a customer buys from you:
If a supplier joins Feefo, the supplier commits to telling Feefo of every sale. When the customer has had a chance to receive the product or service, Feefo email them to ask what they think about the supplier. The customer responds with a very simple form on the site, and the feedback is displayed on the Feefo site (or on the client site via an XML feed) for all to see. It is a very transparent customer feedback tool, and users can trust it as the merchant has no way of "editing" poor reviews.

As well has helping conversion rates, product reviews can also help reduce return rates.  If a user has had the opportunity to research a product fully along with any potential problems then they are less likely to buy something and then have to return it.
Online review tools also help merchants can also track overall customer satisfaction rate over an extended period of time.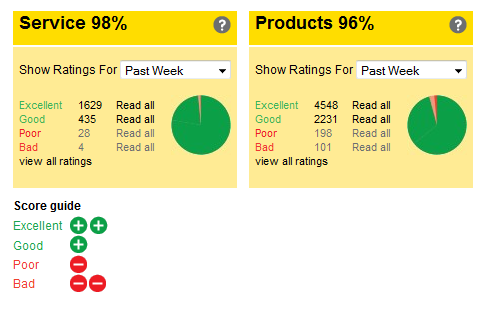 This is a good fit for small to mid-sized companies that are not household names and who need to build trust with their new users.
Other product review sites include
Revoo at www.reevoo.com