Don't forget to follow up
As much effort needs to be put into offline follow-up as your website itself. You are the main event of your website, and whether or not you follow up enquiries is a huge reflection on your organisation as a whole.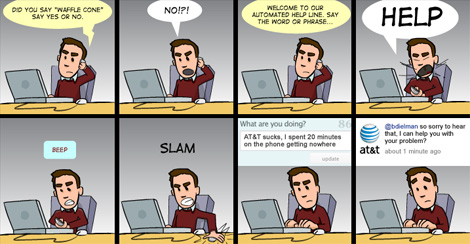 Check out this comic from The Brads
I like to use a website contact form because they're quick and easy. It's not always convienient to pick up the phone, especially when you may be on hold for half an hour.
Lately I have had a couple of enquiries for Camden City Council. Although I get an instant confirmation email (from no-reply@camden.gov.uk) it includes a disclaimer reading "If you do not hear directly from the team involved within 10 working days you may contact the Central Complaints unit direct on…."
If it was suitable for me to call them then I would have in the first place, but for whatever reason I have chosen to email them, and it's not unreasonable to expect a reply. I still have not had a proper response from them about my enquiries.
Likewise, an enquiry to Traid for some photos following a revamp event I attended fell on deaf ears – I didn't even get an aknowledgement.
These are just 2 examples; unanswered enquiries happen all the time. It's so common that you're probably thinking "Well that's what you get from filling in an enquiry form."
But I have huge faith in websites, and I know encouraging contact is the main goal of many sites – so why is this rudeness acceptable and website enquiries go ignored?
Janey at Basically Black is an example of how to do offline follow-through well. We recently did a survey of her customers and almost everyone said how friendly and helpful she had been with choosing sizes, placing orders and managing returns.
It's no surprise she's seeing a lot of repeat customers and verbal recommendations – and it's a shame others are missing the trick.