On the subject of linkbait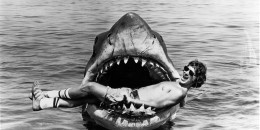 November 5th, 2014.
Content is an important part of any eCommerce site's marketing strategy. Driving traffic to your website, generating links, increasing your websites search engine rankings and branding and PR are important factors for eCommerce sites. Linkbait is a very useful method for influencing all of these factors. Whether it's a quirky video or a humorous infographic, linkbait can be very useful.
What is Linkbait?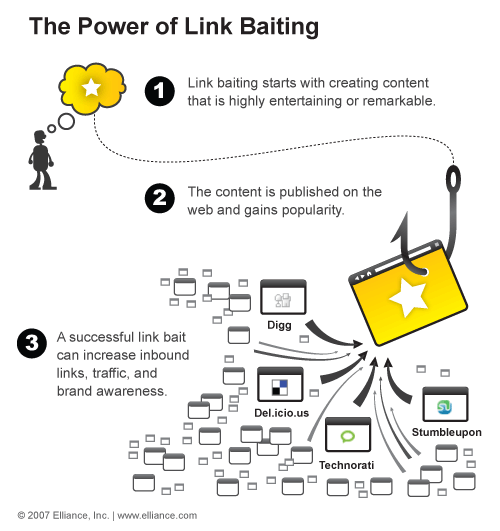 Linkbait refers to content, like a blog post or a video, which is designed to get people to link to (or share) that content. Search engines, like Google and Bing, take into account incoming links, and the quality of those links, when ranking a website. Organic, unpaid, won on merit links to a website are highly valued, so using linkbait is a very effective way for a site to increase its search engine rankings.
There are many different types of linkbait, but the most popular, and arguably most effective are:
Humour: Humour-based linkbait is very effective. People like things that make them smile or laugh, so funny content, whether it's a video or a fake product page for an outrageous product will likely be shared with others.
News: If you provide updates on breaking news, or offer a news feed, or the latest news on one industry, this is called news linkbait. Using news stories is an effective method for getting more traffic, and repeat visits to your site.
Contrary: Content that is controversial or offers a viewpoint on a subject that is contrary to popular opinion is an effective type of linkbait. While a little risker, controversial content can draw in high numbers of traffic and it can generate a buzz about your website.
Resource: A long article, blog post, guide or eBook can act as an informational resource for visitors. Resource linkbait is one of the most successful forms of linkbait, because visitors are very likely to share it with others, and return to the resource themselves frequently. For example, a blog selling bridal veils may offer a guide to choosing a wedding venue.
How can eCommerce Sites Implement a Linkbait Campaign?
 Free Guides
Posting an extensive guide, walkthrough, or how-to, on your site is a fantastic way to drive traffic to your website. A perfect example of using a free guide as linkbait is, Moz.com. Moz.com offers a "Beginners Guide to SEO", which has proven incredibly popular. People have shared this guide with others, and have revisited it many times themselves too. It's a good example of resource link bait. Think about what information would be truly useful, relevant and valuable to your customers. For example, if you sell supplements, fitness and nutrition based guides would be ideal. Don't be scared of giving away too much here. The better and more extensive your resource, then the more successful it will be. Branding yourself as an expert or authority on a topic will pay dividends in the long-run.
Use a Constant Promotional Page
Create a page that has a static URL, and keyword optimise it. Then, place your offers and deals on that page. This is your incentive linkbait page. On this page, also highlight give-aways or contests. Keep this page for each and every deal, giveaway or promotion that your site hosts. Eventually, with each deal, you will get more and more links to that page, and therefore increase your website's rankings.
Video content
Video content is a highly effective form of linkbait. Statistics show that after watching a video, website visitors are 64% more likely to make a purchase, and that if a webpage includes a video, it is fifty times more likely to rank in the first page of the search engine results. Video links can also generate a great deal of traffic on social media sites.
Infographics
As infographics combine images and information, they are becoming an increasingly popular form of content for websites. Infographics are very diverse in that while they deliver statistics, facts and information, they are also aesthetically pleasing, making them ideal for sharing on image based sites like Pinterest and also being referenced and republished in blog posts.
Blog Posts
From controversial opinion based posts to top ten style posts, done well blog posts are a very effective form of linkbait. When creating blog posts, think about what your target audience wants. What content would they find useful, and interesting enough to share? If you sell hiking equipment, you could write a post on the top ten hiking spots in the UK. Make it extensive, make it evergreen, focus again on being a resource, keep it updated and it will attract links over time.
Examples of Effective Linkbait Strategies
13 Essential Tools for Surviving a Zombie Outbreak
REI sells hiking and camping equipment. Its 13 Essential Tools for Surviving a Zombie Outbreak infographic, is the perfect example of linkbait. Combining the elements of humour and resource linkbait, this guide garnered REI a great deal of attention. It also leverages the popularity of zombie shows and movies, like the Waking Dead, to create a piece of content that is truly share-worthy.

5.11 Tactical is an eCommerce store that sells a wide range of clothing items, accessories and equipment for law enforcement, tactical operators, first responders and recreational enthusiasts. As an April Fool's joke, the company announced its "Tactical Duty Kilt". This joke product garnered the company a great deal of attention, so much so that 5.11 Tactical actually decided to really make the Tactical Duty Kilt. It's the perfect example of how humorous linkbait, and fake product pages can really help an eCommerce website.
Blendtec Will It Blend? – iPad Video
Blendtec is a company that sells blenders. It has managed to not only increase traffic to its site through linkbait, but also differentiate itself from other similar companies on the Internet. The company has done this through its Will it Blend video campaign.
These videos show the founder of the company, Tom Dickson, blending odd items, from credit cards to mobile phones, in order to demonstrate how powerful the company's blenders are. These videos have proved incredibly popular, but the Blentec Will it Blend iPad video is one of the most viewed.
Volkswagon Fast Lane – The Slide Video
Volkswagon had the ingenious idea to put a slide on the stairs of the Alexanderplatz subway station in Berlin. The company named the slide the Fast Lane. The subsequent video showing the slide in use asks the question, "Are you Ready for the Fast Lane?" Fun and thought-provoking, this video is the perfect example of how, when done well, video content can be an ideal form of linkbait.
Adam
March 11th, 2011.
I've just come across The Print Effect by Cartridge Save. If you haven't already seen it go take a look (then come right back… I'll wait).
What is it? It's a Twitter app that creates an infographic-like page for each Twitter user you enter. There have been similar things in the past, and this particular one I think is genius: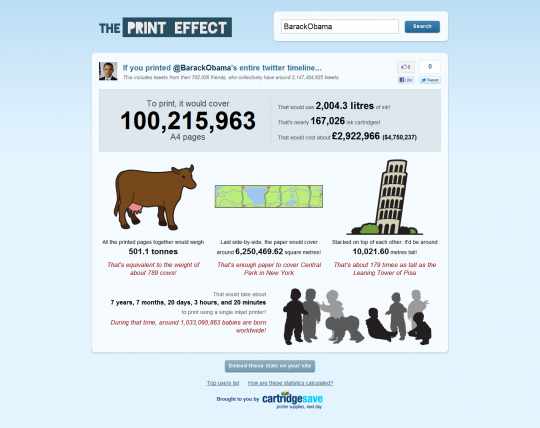 Why is this one a little different to the others? It appears the output content changes for different users (take a look at mine and Matt's- I've got badgers, Matt has cows!)
Why Do I Think This is Such a Cool Idea? (Aside from the cows, obviously)…
Linkbait is getting harder and harder- people are getting bored with infographics and the sharing element to infographics is somewhat limited (I'll happily forward on and link to good content but I'd do it even more if it's about me, the selfish human that I am). This takes on a new twist- linkbait via dynamic infographics!
What I like about this is it's a little different for every user, and people want to share (and link to) interesting things that are about themselves!
As an SEO I would've implemented a different URL structure to prevent creating hundreds of pages for each user, however judging by the shares this has already received I'd be surprised if it doesn't pick up a decent amount of links too.
Perhaps it's time to get a web developer involved as well as the designer or content writer when crafting your next linkbait campaign?
October 20th, 2008.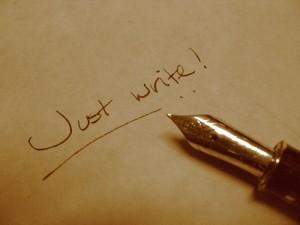 Websites have come a long way, not just in terms of design and technology, but also in their intention. A few short years ago your website was just an extension of your offline promotional material. You had a bit of an introduction, a few pages about your services and contact page, and you were ready to go. That would do for a few years, after all, your services don't change that often right?
These days you really can't get away with that kind of static approach to web publishing. Websites aren't brochures anymore. They are resources, communities and communications channels that are updated on a regular basis.
Why is content important?
Website content is important for several reasons.
It drives visitors – Search engines love text content, the more good, unique and relevant content that you have on your site, generally the more visitors you can expect search engines to be sending you.
It encourages links – Great content encourages people to link to it. Try to develop your site as a 'resource' offer free information, stats and tables, guides and tutorials. The more useful content that you have the more sites that you will find will be happy to link to you – it is these links that send traffic and will also increase search engine rankings.
It ensures return – Better quality content encourages return visitors, the more people return to your site, the more likely they are to buy from you.
It strengthens branding – Great content will help to strengthen your brand and brand recognition. Not just through search engine rankings, but also through word of mouth and referrals. People are not only going to be talking about how great your products and services are, but also how useful your site is and how their friends and colleagues must go and take a look at it.
It creates trust – Writing on your area of expertise is a great way to demonstrate how much you know your topic. You're more likely to buy from someone that is knowledgeable and generous with their expertise right?
How can I develop content on my own site?
Okay, now we've established that content is important and vital for commercial sites, but how do we go about creating a content development strategy of our own?
Below we have put together a list of tips on how to go about developing a content strategy for your own commercial website.
Leverage your people. The more people you have helping to create website content, the more ideas, variation and knowledge that you have. It's also far less of a workload to have 8 members of staff generating one article each per month, rather than one person having to write a couple of pieces every few days. Set out a timetable that people are encouraged and rewarded for adhering to.
Consider your platform. It's imperative that your have an easy publishing platform that your staff members can use and you don't have to wait for developers or designers to get involved. Using a blog platform like WordPress will mean even your less tech-savvy staff will be able to publish their own content in a matter of minutes.
Pitch it right. Make sure your content isn't overtly promotional. Sales pitches don't generally interest people, neither does it tend to encourage people to link to it. However nobody expects you not to link to or mention your commercial activities. Finding a happy medium that works for your site can sometimes take a little time.
Brainstorm – Involve others in coming up with article titles and ideas. A monthly meeting should be sufficient for coming up with a few weeks of article titles and content ideas. You'll find that some of the more wacky and off the wall ideas work the best.
Get involved. Make sure you get involved with your industries online community. Don't be scared to link out to other industry sites. Comment on their blogs, offer to write for industry journals, invite industry figures to write for you. All of these activities will help to develop your online brand and increase the number of websites that are linking to your own.
Keep abreast of industry news. I recommend subscribing to as many industry newsfeeds as possible using an RSS reader. Not only does this easily keep me up-to-date with what's happening in my industry, but also it gives me lots of topical subject ideas for relevant industry comment.
Look at sites within your own industry. What kind of content do they provide. Do they do anything that you're not doing? Can what they're doing be improved upon?
Look at sites in other industries. Are other sites doing anything that may be reworked to crossover into your industry? Can you apply things like video, community, social media, images or widgets to stay one step ahead of your competitors?
Demonstrate your knowledge. Consider adding content that displays your knowledge of your topic. Ideas like FAQs, guides, how-tos, client Q&As and critiques are great ways of demonstrating the experts at your company.
Be keyword conscious. Know which keywords people use when searching for products and services in your industry. Bear these in mind when developing your content writing timetable and article text.
Content isn't just writing. Although you'll find the bulk of your website content will be text based, don't ignore the benefits of image and video content. Some of the best corporate linkbait is image based.
Some examples of corporate content ideas in action
Best Western – The On The Go With Amy travel blog.
Dell – A good example of FAQ pages
HSBC – The HSBC business network connecting businessmen using blogs and forums.
Nike – The Loop'd community connects extreme sports fans.
Office Furniture Express – The 6 coolest offices.
OfficeMax – Elf Yourself
Phillips – Shave Everywhere
Shock Absorber – The Shock Absorber sports bra. A product aimed at women with linkbait aimed at men!