On the subject of reputation monitoring software
December 2nd, 2009.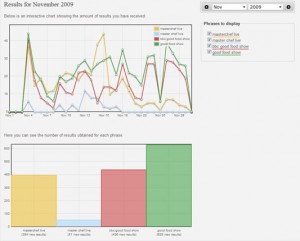 Datadial are pleased to announce the launch of their online reputation monitoring tool. Designed for business and agencies that wish to monitor the online profiles of their brand, products, key staff and competitors.
We have designed the user interface to be as intuitive as possible, with an emphasis on speed of use and productivity, while at the same time a feature-rich interface gives in-depth data about the source of mentions and enables you to tag, comment or share mentions for further action.
This service should be seen as part of any effective online marketing strategy.
You will be able to track and measure what is being said.
Armed with this information you will be able to see the effectiveness of your campaigns, gain customer insight, learn how your brand, products and services are being perceived and also join in the conversation and, if necessary, react to any adverse publicity.
The results will help you with planning for future campaigns, enabling fine-tuning and therefore saving you money.
At this point the software is still at a beta stage, so we are inviting as much user feedback and suggestions as possible on design and functionality. Signup to track one phrase is free, so please go here to signup for an account.