On the subject of A/B Testing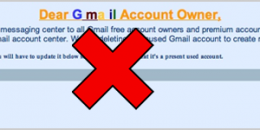 Martina
August 23rd, 2013.

Spend enough time wading through spam emails and you'll be amazed at what you find. From dodgy salutations to cringe-worthy formatting, on a very slow day this makes for a good few minutes of entertainment.
Here are some of the most 'creepy' elements of bad email-ship:
Over personalisation
Why it's done & why it sucks:
This is usually an attempt at making a company look uber-friendly, since the emails they send you are formatted like a buddy would send them.
The downside is that sometimes we sign up with nick-names, tags or misspellings which can quickly turn a harmless greeting into a spammy annoyance. Seeing "Happy Birthday JaneDoe101!" or "JaneDoe101 we miss you!" littering up your mailbox is usually the first step on the way to an unsubscribe!
Archaic greetings
Why it's done & why it sucks:
"Dear Sir/Madam" or "To whom this may concern" are clear-cut indicators of cold calling (or cold mailing) – sure they're gender neutral but boy are they impersonal. They scream "Someone, anyone – please read me!" rather than seeming relevant to the recipient. 

Too many imperatives
Why it's done & why it sucks:
It's true that the call-to action is a huge part of the science behind a smooth conversion, so putting in punchy phrases like "click here!" and "buy now!" seem standard procedure, but there is such a thing of over-doing it.
Ultimately, I don't want bossy emails, and legally anything being sold is an 'invitation to treat' so in your next sales email, try the passive approach with an A/B test to see what gains a better reaction.
Too long
Why it's done & why it sucks:
It's been a while and there's a lot to say, but how long do you think I've got? People are time conscious, say less!
If you need to explain something a nifty way of doing so is by linking back to a blog post published on your website. Not only is this considerate of your customers, it's also potential for indirect conversions; they may just browse other parts of your website…
---
And in taking my own advice, I'll keep this short and sweet – but feel free to add any other examples you can think of in our vowel to make electronic mail, sustainable!