On the subject of Google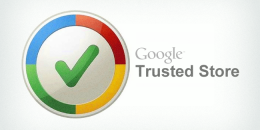 October 1st, 2014.
In 2012, Google launched its Trusted Stores program in the USA. Now, the search engine has opened the program to UK retailers, aimed at creating a better shopping experience for both consumers and eCommerce websites.
What is Google Trusted Stores?
Google Trusted Stores is a program that is beneficial to both consumers and eCommerce sites. With the Google Trusted Stores program, retailers that meet certain criteria get a Trusted Stores badge, which displays on their site, and on paid search engine results. This badge allows stores to show they offer fantastic customer service and consistent, on-time deliveries.

Benefits to Consumers
The Trusted Stores Program benefits consumers in a number of ways. As online stores have to meet strict criteria to join the program, consumers are able to shop with more confidence. Online, there are thousands of stores for consumers to choose from, and often, consumers don't know which ones are going to provide them with the best shopping experience.
When a consumer sees the trusted stores symbol on a store, it differentiates that site from others. It allows shoppers to more easily identify stores that offer a high quality shopping experience. Merchants with the badge will also offer free purchase protection from Google.
Benefits to Businesses
For retailers, the program can be highly beneficial. It provides merchants with the chance to differentiate themselves from their competitors. The Trusted Stores badge immediately makes a store stand out.
For example, a person searching for a floor lamp on Google will see an abundance of stores. However, if they see one store is displaying a badge, they are most likely to visit that particular store.  This increased level of visibility will attract more customers, and therefore, increase sales and conversion rates.
Most importantly, however, the objective data offered to consumers through the program can drastically increase a store's customer base. When a consumer places an order with a site, they want to know that it offers a good shopping experience. The Trusted Stores Badge provides consumers with more objective information on a store's quality level.
When a consumer hovers their mouse over the badge, they will see a report card. This card offers information on a store's customer services and shipping reliability. Also, it will display overall data on the store, such as returns, delivery times, email response times and the overall shopping experience. This data is collected through an independent shopping evaluation company called StellaService. With this symbol, the consumer is given an objective review of the site, and will be more likely to purchase with that store.
Applying: Who should Apply and How to Apply
Stores can apply to the Google Trusted Stores program, only if they meet certain eligibility criteria.
Process a Certain Number of Orders: Your site must consistently process at least two- hundred orders, over twenty-eight days to be eligible.
Use Shipping Tracking Numbers: On the majority of the orders your site ships, you must use shipment tracking numbers. This is so Google is able to see how quickly your shipments were delivered, and how many were delivered.
Cannot Sell Restricted Items: If your website sells any restricted items, such as tobacco, weapons, and certain pharmaceuticals, it won't be eligible for the Google Trusted Stores Program
Must Offer Reasons for CancellationsIf your site becomes part of the Trusted Stores program, it must provide reasons for cancellations. When an order status changes to cancelled, you will be taken to a pop-up screen. On this screen, you will have to state the reason for the cancellation. In order to keep your Google cancellation feed up to date, you have to enter this data.
Deal with Customer Escalations Promptly: If a customer is not happy with one of your employees, and wants to talk to someone in a higher position, this issue must be resolved within one working day.
Use a Custom Domain and Have an SSL Certificate: Your website must have its own custom domain, and have an SSL certificate to participate in the Google Trusted Stores program.
Launching in the UK, the Google Trusted Stores program is sure to have a big impact on eCommerce and paid search, and  may helpincrease conversion rates for many stores.