On the subject of twitter
January 27th, 2010.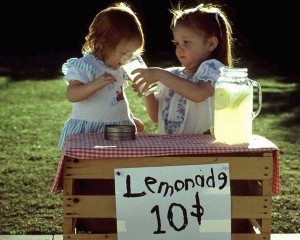 Search engine optimisation and digital marketing for small business isn't easy. For big-brands people love linking to them without them having to ask, even without them deserving it in many cases.
Small business don't have that luxury, that's not to say that the smaller guys can't compete, they just have to work harder and smarter to get their share of attention online.
Some of my favourite small business SEO tips are below, some are mine, others are from people who volunteered their own ideas on Twitter.
Optimise for local search. Figure out who are the authoritative citations within your city – ie touchnottingham.com via @APSG
Concentrate on local search and longer search terms as these give more of a chance with a smaller budget. Google Maps add is a must in your town! via @StuartFlatt
Be active online. Forge relationships with blog owners, find journalists on Twitter. These contacts will be invaluable when it comes to getting coverage.
Write content that's relevant to your business and your customers & keep it up to date. via @picseli
Get your analytics package in place as early as possible. The more data you have the more you'll be able to analyse your marketing decisions.
Utilise your current relationships – reciprocal linking is not perfect, but still has a good effect on local search (imo) via @CMaddison
Brand yourself as an expert. Write informative articles about your industry. Post them on your site, ask to have your work published on others.
Try to focus on conversions rather than rankings. Too many small business owners are obsessed with being first, rather than focusing on profits. via @CMaddison
At the very least ensure your page titles are unique and relevant to the content on them.
Don't scrimp on your website, a less than satisfactory site may save cash in the short term, but it'll cost you in conversions.
Build your list – capture customer data, segment it, test it and contact them regularly (not too regularly) with useful information, articles, links and offers.
Consider using Adwords for initial data collection / keyword selection – find your best converting/most profitable keywords for under £100 via @CMaddison
Build trust – make sure you're easily contactable, make sure your site has a prominent address and telephone number on each page, explain why your buying process is secure.
Find out who your competition is, then find out who links to them using Open Site Explorer – get those sites to link to you.
Setup Google alerts for your business name. Make sure you monitor these, it's a great opportunity to ask for links when people forget, or to network with people who are already talking about you.
April 20th, 2009.

A bold statement to make maybe, and a few months ago I would have laughed at anyone making such a claim, but over the past few weeks and months Twitter has evolved into something unique that Google, and indeed no other search engine has managed to achieve.
Lets get one thing straight – Google is still the search engine to beat when it comes to archiving vast quantities of historical information and giving users a simple interface to retrieve this stored data. If you want to find expert reviews of that new LCD TV that you're thinking of buying, research your homework, find that website that you can't quite remember the URL of, look for a good cheesecake recipe, and whole host of other search query types, then Google is your first port of call.
However, where Twitter is coming into its own is enabling its users to get real-time access to information from real people.
Three main factors have contributed to Twitters strength in this area and will act as barriers to entry for others,
1. Twitter turns users into publishers – on Twitter people are the key. Everyone using the service is a publisher. Posting information, ideas and facts that effect and relate to them.
2. Achieved a critical mass – over the past few months the enormous growth of the Twitter user base means that with the huge amount of information being published every day by a massive number of users now increase the chances are that someone will have posted on the subject you're looking for, and if needed you can even contact them directly.
3. Mobility – The concise nature of the service means that it is one of the first web services that is truly suited to use away from the computer and gives people the ability to post and access information on the go.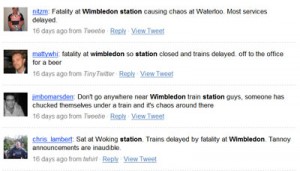 One of the first examples that brought home the power of the service to me personally was when travelling through London a couple of weeks ago only to experience the usual travel chaos.  A quick Twitter search on my phone revealed that depressingly there had been a fatality, and the station was unlikely to reopen for some time. With the use of Twitter I was even able to meet up at a bar with some friends who were also stuck in the area, and we then got updated via a Twitter travel service when the station had reopened.
Twitter isn't just suited to turning miserable Friday evening travel chaos into drinking sessions. Even the major news outlets are waking up to realise the power of the service. During the G20 protests in London, Sky News, who were the first to announce a dedicated Twitter correspondent, dispatched three 'Twitter reporters' into the area who were tasked with reporting up to the minute news via their Tweets and the use of Twitpic for images. While following the progress of the events on both TV and the major news corporations websites, I increasingly found that is was Twitter search that was providing information far in advance and in many cases in more detail than was being provided though traditional sources.
It's not just real-time national and local news where Twitter gives access to information that other search engines don't. It's also a great resource for "real peoples" product and service experiences. People are now far more likely to Tweet about their opinions on purchases than they are to blog about them or add their views to a reviews website. Consumer electronics, airlines, hotels and internet services companies have all been on the good and bad side of Twitter publicity. An added dimension is given by the ability for these companies to contact their users directly.
With user growth and usage being directly proportional to the volume of information continued growth can only mean increasing the services usefulness as a search engine.
Mainstream media has been among the first industries to wake-up to the potential of Twitter, and on the whole have embraced it as an additional news channel.
So what is next for Twitter? I can see their real-time search results taking on additional dimensions, perhaps some form of relevance ranking, additional sorting options and further integration to tie it more securely to the service. Monetisation of these search results is probably not too far away
September 4th, 2008.
Reputation management is going to be a massive growth area for brands over the next few years. Imagine the power in being able to monitor, track and aggregate everything that people are saying about your company and brand online, on blogs, websites, forums, everywhere in fact that your potential clients can find it. With more and more people researching potential purchases online it won't just be useful to monitor online sentiment, it'll become vital.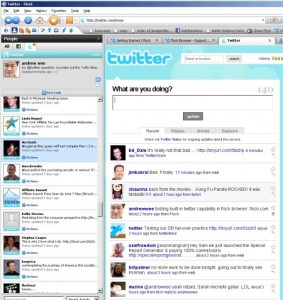 There are several free tools online that will help you to dip your toe into the world of reputation monitoring.
Google Alerts
This is something everyone should have setup. Google alerts will notify you by email every time they find a mention of a specific keyword anywhere online. By setting alerts for keywords like your company name, brand/product names, key staff etc you can keep track of when and why you're getting mentions online. Key queries include [domain name], [domainname], [domainname.com], [your name], [Brand Name], [yourname], etc.
Google Blog Search
Play with the date parameters to see what people have been saying about your company in the past few days
Twing
Lets you find out what people have been saying about you on forums and discussion boards. Many companies keep a close eye on this and react to positive/negative comments.
Twitter Search
While Twitter is still quite new to a lot of people, it has a huge user base, and many larger tech and media companies are already using it to connect with their audience. Using Twitter Search you can monitor mentions of your company. Subscribe to the RSS feed to be alerted with new brand mentions.