On the subject of Blogging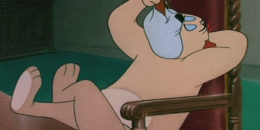 January 23rd, 2014.
I ran an experiment last year. I had a website with no blog. It had lots of pages on a niche topic, but very few readers. I installed a blog and began posting once per month. In a year, the traffic doubled – (I'll admit it increased from 'barely perceptible' to 'quite unremarkable', but you can't argue with the numbers).

The massive spike around April 2013 was from some experimenting with paid discovery. The second, smaller spike was a particularly controversial blog post.
I think this settles the argument once and for all: A regular content schedule is a sure-fire way to get traffic.
I know what you're wondering – 'How does this affect me, the business owner?'
Well, business owner, I'll tell you.
It means that you should be publishing regular content on your site if you want people to be visiting it. But as a business owner (or marketing manager) you'll be plenty busy enough with all sorts of other concerns – do you have time for creating a content marketing strategy too?
YES!
You need to be producing content – that's a fact. It's a thing you can't deny. I create content for 30 clients – I use the 'DEAL' system, from Tim Ferris (author of The Four Hour Work Week):
Define, Eliminate, Automate, Liberate.
Define
Define the sort of content you need. I daresay you won't go far wrong with one blog post per week and one infographic per month.
You'll also need to consider sharing and seeding the content as it's produced. This can be done via the regular social networking channels, but also on targeted interest sites via email outreach.
All of these things take time – hours and hours of time. But only if you do them all yourself…
Eliminate
Remove any unnecessary steps in the programme. Don't waste your time getting bogged down with trying to design things yourself or write blog posts yourself – there are plenty of people in the world who will do it for you in exchange for money. They are called freelancers and are readily available online.
Think about what you really need to do for the job to work. In fact, I'll do it for you – you need to come up with content ideas and you need to check it, then post it. The rest can be done for you.
Automate
Automation is achieved by setting up a system that handles the tasks for you. In essence, you feed the machine with briefs and it comes back with content. Online freelancing services exist purely to make your life easier, and they're really great.
My favourite freelancing sites include:
-Research/Data Input:
O-Desk is very useful for finding people to do basic tasks – data analysis, basic research, number crunching etc. I use O-Desk for jobs that are too time consuming to handle myself. For example, if I was trying to make an infographic about football transfers (which I am), I'd post the job on O-Desk and find someone more capable and efficient than me to handle the research and analysis while I concentrate on planning the next infographic.
O-Desk also allows you to create teams of people to handle larger ongoing projects. It's efficient and easy to manage and provides a screentracker so you can make sure your freelancers are staying on task.
Do note, however – O-Desk has a very high number of have-a-go-heroes. They aren't necessarily qualified in a given field, so although they are competent, you can't expect them to do more demanding tasks. For basic stuff though, it's ideal.
-Writing:
Textbroker's site is fairly basic in functionality, but it focusses solely on copywriting so it's far more targeted. Prices vary based on the writer's rating (out of 5). I've found some really fantastic writers on Textbroker, but also some absolute stinkers. Usually I have to edit a few things as it's easier than sending it back for amendments, but it saves a lot of time.
Good copywriters also tend to be good researchers. They're generally more able to follow a complex brief than their counterparts on O-Desk, so you can offer them more in-depth projects to research.
-Design:
People Per Hour – covers pretty much every digital-based job, but I use it for designers
PPH is more useful to me than some of my own body parts. I can post a job at 9 in the morning, receive proposals and have the job in the bag before I go to bed that night. People Per Hour has the benefit of knowing where your freelancer is located, so you can target areas that are likely to have more qualified personnel.
For instance, in searching for a designer, Europe has more reliable design schools than other parts of the world, and by choosing someone in Britain I can guarantee we're in the same timezone, language and operate on the same working hours. It makes the tasks much more manageable.
The site is really fun. You could spend hours looking at the fantastic artwork and designs people come up with. It costs a lot as it's targeted solely for design and membership is by invitation only so the vetting process is quite thorough.
Hiring works like a traditional jobs list – you post your jobs and people apply.
It is possible to contact the designers for one-off work, but generally they know the value of their work so be prepared to pay for it.
-Outreach:
You need to get your content in front of people. Using services like O-Desk will be futile as the workers tend to take the easy option, and language barriers often mean briefs are misinterpreted. People Per Hour is better as you can find people with proven experience who can provide you with a list of relevant sites to contact with a view to posting your content.
Sites like BuzzSumo (free) and GroupHigh (not free) really speed up the process as you can tap into existing conversations about the things you're promoting, and target the people interested in them.
-Seeding:
Seeding is an essential part of the content process. Making sure your content appears in the right places and in front of the right people is undoubtedly going to reap its own rewards. By building lists of relevant sites to post to, you can automate this process and make sure every piece of content is placed in front of the influencers, sharers and promoters you need.
If you've got a bit of budget, you might also consider paid promotion on social media. 'Boosting' a post on Facebook, or StumbleUpon's paid discovery service guarantee the content will be exposed to more people. However, the content needs to be useful and relevant to the audience to gain more traction. If it's not engaging, people won't engage with it (click/share etc.) and you'll have wasted the promotion budget.
Liberate
As you practice and refine this process you'll find yourself free to do other things for your business. You'll be free to chase new clients and more work, and the best part is, you won't need to do any more work yourself – the system can handle it!
You'll notice I didn't mention anything about idea generation – that's because I think idea generation is the one thing you shouldn't outsource. You need to make sure your content is completely suitable for the purpose, and you can have a lot of fun coming up with new ideas.
November 27th, 2012.

'Google Authorship'. You've probably heard it being bandied around and if you haven't taken the time to look into it, now's your chance. Google Authorship will arguably prove to be the most significant tool for building rankings that Google has ever introduced; and if you're smart about it, you can start benefiting immediately. This post will explain what it is, its implications and how to use it, so it's a great place to start. Before we begin, it's important to say that Authorship and AuthorRank are separate, but inescapably linked. Just like nobody ever talked about Tom without mentioning Jerry, it's hard to talk about Authorship without thinking about AuthorRank.
What is Google Authorship?
Nutshell time!
Google Authorship is Google's strategy of linking web authors to their online content. So anything you write online can be linked to your online profile (no prizes for guessing it's your Google+ profile). Google haven't officially said that this will lead to a writing-quality based ranking system; but they've implied it pretty heavily. In 2007, Google patented something called 'Agent Rank'. You can take a look at the patent here , but if you're not versed in patent law, Bill Slawski gives a pretty good run down over in February 2007.
Obviously we're now spoiled by blogs explaining where they were going with this patent, but with the advent of Google+ and Authorship the theories are starting to become an impending reality.

Be Careful
It's important to remember that Google Authorship and AuthorRank are separate entities.
You can read all about Authorship at the horse's mouth; but broadly, it's the link between authors and their content. AuthorRank is the rating system associated with this link. Authorship is in operation now. AuthorRank isn't.
In a lot of press stuff the G-team has been saying the main focus of Authorship is to link authors to their content. Google Software Engineer, Othar Hansson appears to be obsessed with the fact that it puts your picture next to your post on SERPs and the psychological benefits of this in terms of connectivity. In his words, it's Google's way of 'making the internet more human'. It's a lovely sentiment, but cynical-old-me still thinks this is all part of the much bigger AuthorRank picture. And that's not a bad thing. AuthorRank will be a great way of promoting online content based on the merit of its production and weeding out spammers. It punishes anonymity, but celebrates connectivity, and that's surely a step in the right direction.
AuthorRank isn't officially in use yet, but the buzz around it has become almost deafening and smart money is on it being run as an operational algorithm very soon.
But, back to Authorship…
Why should Authorship bother me?
Why shouldn't it? This is the first chance we've been given to associate all of our online work in one centralised beacon. If, like me, you originally avoided the Google+ hype, change your mind now, or you might just get left behind.
There's never been a better reason to join up. It will ensure you get the praise you deserve for the stuff you've written in your field of expertise by linking to similar articles you've written. In fact, that plan is already in action. Matt McGee has found that as soon as you're finished reading an article by an author signed up to Authorship, you press 'back' on your browser and Hey, Presto! You're presented with more articles on the same subject from the same author. This is the perfect type of promotion and will benefit your traffic in no time.

Pros and Cons of Authorship (and, inevitably, AuthorRank)
Let's take a look at the effects Authorship could have on your business:
Pros
– Association with good writers and good content is bound to have a positive influence on your site's PageRank. AuthorRank will undoubtedly go hand-in-hand with PageRank!
– People will be able to interactively see the merits of your site by clicking the author links on each post.
– Verified quality writers will encourage more people to link to your site. It'll work wonders for Domain Authority.
– What if that writer who's earned you all those Click-Throughs leaves? Well, they'll always be tied to the domain that published their content. So even if they stop writing for you, as long as you both stay on top of your game, you'll both benefit.
– You'll get more Clicks because people will trust that smiling Rich Snippet of yours more than they trust a farmed-in link.
– People will be more willing to contact you with their thoughts. That means you'll be able to engage more with your audience.
– Spammers will be much more easily identified. No Authorship will mean no verified author. Quality content will be rewarded.
Cons
– If you rely on one writer for a high ranking/readership and they leave, you'll have to work extra hard to keep on top and stay fresh. But there's nothing new there!
– Authorship can't be attributed to your company, only to your writers.
– Authorship can't be attributed to a team, only to ONE writer.
– It acknowledges the achievements of individual writers rather than a whole business.
(But the kudos is shared by association, so everyone's a winner.)
One point which is a mix of a Pro and a Con: a lot of people have been reporting that their Rich Snippets have taken weeks or even months to show up. Generally, Google seems to giving it on a priority basis to people they think have earned it. That is, people who are getting a lot of traffic for a lot of posts. It seems a little harsh to begin with, but at least this way you know Authorship has truly been earned.
At face value, the pros seem to outweigh the cons; and the cons concerning companies benefiting from the writing of their employees seem to be part of an on-going morality battle. Is it OK for an employer to take credit for their employees work? That's a question for another time on another blog. But in any case it would seem that Authorship unequivocally promotes and celebrates individualism and, to bang the Marxist drum, denies the power of anonymous corporatism.
How Can I Get On Board?
2 Things you'll need for Authorship before you start out:
– Online Content (you already have that though, right?)
– A Google+ Profile!
I don't have Google+!
Let's start from the start. I'll show you how to set up a Google+ profile from Scratch; using the perfect blank slate: me!
Step 1: We'll pretend like none of us has a Google account and start from the front door. Head over to Google+
Step 2: Fill in the Details form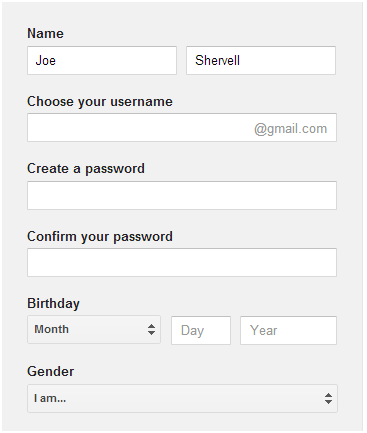 Step 3: After a verification process, you'll be presented with this box: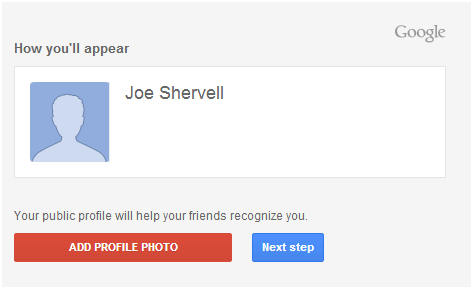 Step 4: Get your photo up! This will be the photo used in your Author Rich Snippet.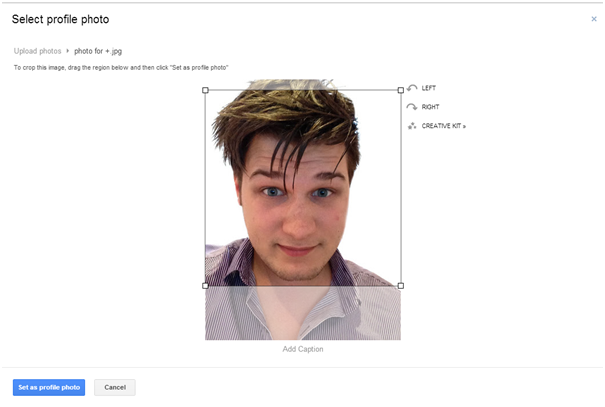 Step 5: 

… and Get Involved!
There are plenty of posts around the web that can give you a complete overview of what Google+ has to offer, but since this post is about Google Authorship I'll leave you with one piece of advice:
Use Google+ as much as possible. The more you engage with your profile and the circles you build, the more you'll gain from the service and the more strength you'll have around the web.

So how do I link between my profile and my posts?
Well, there's a lot of ways this can be done. The process can be quite confusing, but Rick DeJarnette gives a decent overview.
NB. It's still a little jargony in places.
I'll break it down as best I can in a second, but if the HTML stuff gets too much, feel free to watch this video of Matt Cutts and Bond-Villain-in-Waiting, Othar Hansson looking uncomfortable and explaining the HTML coding in very accessible terms.
For Sites with One Author:
If you have an email address on the same domain as your published work:
Step 1: Head over to the Authorship sign-up page and fill in the form.
Step 2: Click 'Verify' in the Verification Email.
Step 3: In the 'Edit Profile' section of your Google+ profile, you'll now find you're a 'Contributor to' the domain of the email.

Step 4: Start writing as much as possible at that domain. The more Google sees people are looking at your content, the more important Google thinks you are and the sooner you get your picture on the Search Page.
If you don't have an email address on the same domain as your published work:
This may also be useful for posts in blogs where you're a guest poster.
The best way in this case is to include a hyperlink with an HTML "rel=author" tag at the bottom of each page you write.
Basically, rel="Author" is a way of telling Google that the author of this page is at the other end of this link.
The complete HTML link will look something like this:
<a href="https://plus.google.com/101369752982717498462#101369752982717498462?rel=author">Joe Shervell</a>
And behave something like this:
Now go back to 'Edit Profile' on your Google+ page and edit the 'Contributor to' section to include the site you posted to. It may be more beneficial to give the exact URL of the page, like this:

But reportedly listing the domain's homepage will still work fine.
My site has multiple authors.
That's ok, so does ours!
Step 1: Make sure you have a Bio Page set up for each writer. Something like this.
Step 2: Set up a Hyperlink from the Content Page to the Bio Page, but make sure you include our old friend, the rel="author" tag.
Step 3: Set up a Hyperlink from the Bio Page to your Google+ profile, but this time include a rel="me" tag. Simply put, Google will read this as you saying 'this is me'.
Step 4: Head back to "Edit Profile" on your Google+ profile and enter the URL of the bio page in the "Contributor to" section.
That's about the size of it!
But I use WordPress. What about me?
If you're WordPress savvy then it's really straight forward:
Step 1: Grab yourself a copy of a plugin like this one.
Step 2: Install it (It's all explained in better detail right here)
Step 3: Fill in the information on your WordPress User Area.
Step 4: Keep posting and sharing and Google will notice you and give you your well-earned Rich Snippet.
So I've Set Up Authorship. Now What?
By setting up Authorship you've put yourself on Google's radar as a writer, and that's a huge step in the right direction. When AuthorRank does arrive, (and it's not a matter of if, but when?) the more prestige you've earned as a writer, the better.
Use your Google+ profile to interact with your community of readers. Write about what you know, and write about it well. Google will see you as someone worthwhile in the field and give you a better rating in the rankings battle. This 'writing about what you know' is an important point. If you're Noam Chomsky, then Google will recognise all the stuff you've written on Language Acquisition and if you decide to blog about it, you'll be rewarded with high rankings based on your previous work. If you're Noam Chomsky and you decide to write a blog post about Animal Husbandry in the Serengeti; you might not get the same level of respect.
That seems like an important point; one that I'm loathe to gloss over. Google Authorship can reward expertise. If you build a following and recognition as a writer in a certain field, then it will be reasonably safe for Google to assume that anything you write on that subject will be of a similar calibre. That's not to discourage you from branching out into other fields; but if you do, make sure you have a community willing to accept that change or you might be punished by negative response.
To sum up neatly; Authorship is essential to let Google know you are a legitimate and quality writer who isn't out to scam or spam. In the future, AuthorRank will come into the equation, and when it does, make sure you're ready by building a big following and professional group now on Google+.
And even if we're all wrong about AuthorRank… what's the harm in having Google's Seal-of-Approval on your work?
May 10th, 2011.
Are your bounce rates extremely high? Does Google Analytic's show that people are only spending a very short time on your site before leaving? Loyalty rates low?  As a web-master if you face any of these issues, read on for some tips on how to overcome them:
Have some "me" time


Link to your site – on your site. The more links your website includes to the pages on your site the better. The simple logic behind it is this, when these links are clicked, they lead to another area of your site. This means people will be hanging around longer, seeing what else there is to see rather than being lead off to other places online or simply leaving altogether.
Opt for quality over quantity
What would you rather:
(a) thousands of visitors daily who stumble onto your site & realise they have been duped by your misleading ad causing them to instantly leave and grumble about wasted online browsing (which would result in high CTRs, virtually no conversions and an extremely high bounce rate).
OR
(b) a consistent amount of daily visitors who spend a little longer on your site browsing and hopefully converting?
The point of this rhetorical question is relevance. A person wanting to buy household goods for interior design, finding your site through an ad suggesting household goods for interior design before discovering what you actually sell are gardening products, will leave. You may be happy about a high CTR but remember, you are paying for every click in a CPC campaign and every thousand impressions in a CPM one; be specific.
Avoid mazes, nobody likes those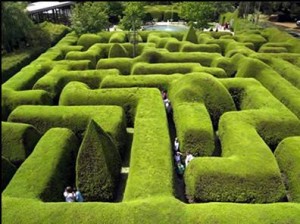 The origins of the internet arguably date back to the 19th century, yet 2 centuries later people still create websites with awful navigability leaving the average web surfer frustrated enough to give up searching for whatever it is they wanted on that particular site and going elsewhere. If you want people to stay, you must make each section of your site clear and easy to get to, it wouldn't matter if you had the most wonderful web content available if people didn't know it was there.
Get the right look
Using Google Adsense is one great way to bring some extra revenue. When people come to your site and you have too many ads, links to here & there, misspellings, dodgy looking logo's/pictures, flashing animations and the like…they leave. These things are annoying and really count towards (or in this case against) customer confidence. Try Google's 'website optimiser' – a tool that allows you to test different versions of your site to help decide what the best version is.
Incentives and interaction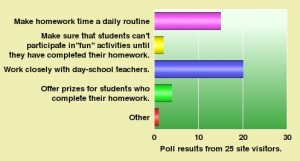 Incorporate things into your site that people want to spend time doing, this could include anything from quizzes, polls, questions, comments areas, forums, things to rate, games etc (I could keep listing things but I think you get the point).
Good luck!