On the subject of Social Media
Tad Chef
October 15th, 2015.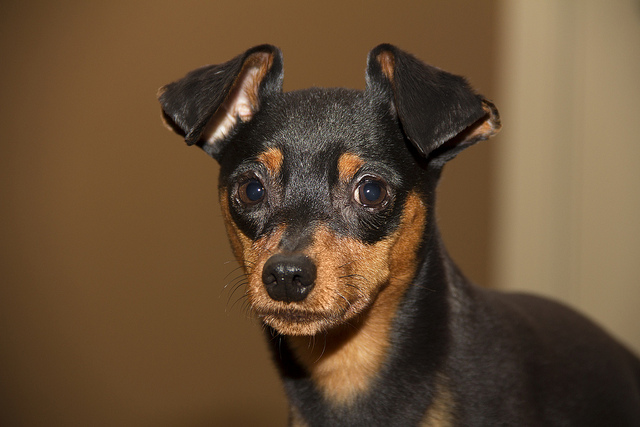 *
Marketers often struggle with Pinterest. Most Pinterest howtos are rather manuals on how to use "rich pins" or other features.
Pinterest optimization advice often boils down to things like "use hashtags" or "join group boards".
Both techniques are typical for selfish marketers but often backfire. Here's an actual closer look at really popular pins other than recipes.
You already know about Pinterest don't you? It's that site run by desperate housewives collecting recipes or revelling in depictions of dream weddings. I didn't believe the Pinterest hype either a few years back. I mean I don't cook despite my nickname: Chef. I already married but I didn't even wear a suit and tie at the ceremony.
I'm not a woman you might want to add. Yet I tried Pinterest to find out whether I can build an audience there, and to learn about the potential organic reach it was rumoured to have.
Almost three years later I have more than 100k followers and sometimes dozens or even hundreds of repins (as reshares are called on Pinterest) on my images.
Don't get awed by the huge follower number though. It's all lurkers. Pinterest decided that because I'm an active user living in Germany I must be the ideal option for newbie users to follow. Now all these empty accounts run by people who logged in once and never shared an image are inflating my follower number but showing no engagement, predictably.
Thus the most interesting thing is not how I got the followers (which aren't the same as on other social sites anyway) but how I was able to get some pins reshared numerous times.
Of course it's a combination of many factors I can only guess based in my first hand experience.
I can't offer you survey results or big data but instead real life examples and my explanation why I think these and not other images have made it.
Viral Pinterest spread may come in many different flavors:
You can have a large niche-oriented audience – for example people collecting images of architecture. Indeed that's what I have.
You can rank well on Pinterest for particular images, boards or even user names. I did rank well for more than a year at least in an area with fewer competitors where I was an early mover.
You can get popular with old pins by now as a new algorithm is unearthing similar images of those you already show. With three years worth of shares I get a lot of that love.
You can get a lot of viewers simply by covering a topic many people like. Inspirational quotes are such an example. People browsing the default quotes category might notice you. Sometimes the wrong category might lead to broad sharing as well.
Let's take a look at the actual pins. I have chosen a few of them based on popularity and the possibility of replicating them. You can predict success based on some aspects of these pins. Examples of such are
the category
the image size
the image form
Of course these can only work when the message and the depiction is inspiring enough. That's what Pinterest inherently is about. It's a huge collection of what people want, what they look up to and what they would like implemented to see in their own life.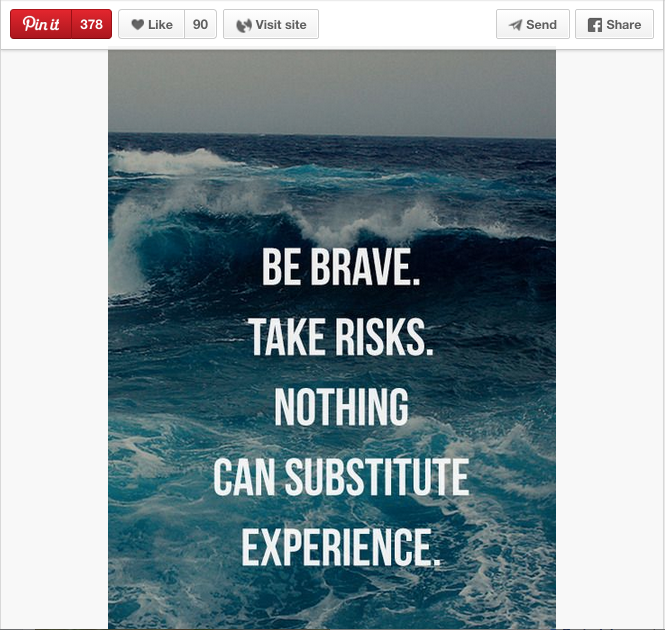 Inspirational quotes are one of the most popular categories on Pinterest despite the fact that not everybody is speaking English on the service.
Images that are bigger in height than width are better for Pinterest in general but with quotes it's almost a prerequisite.
The "be brave/take risks" quote image is 500px wide but 750px high. That's essentially the prefect size and ratio 1:1,5 for Pinterest simply because of the way Pinterest shows thumbnails.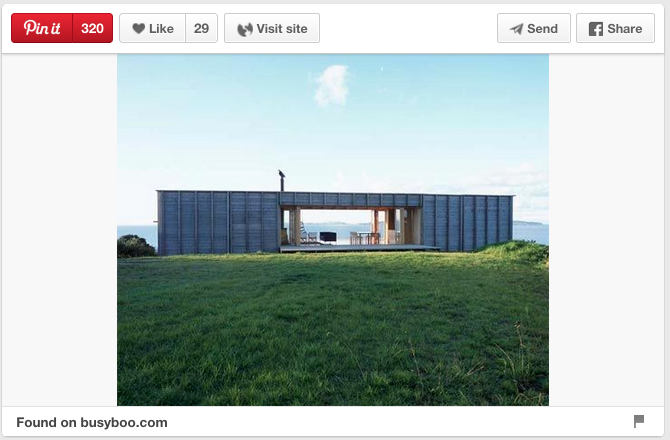 Even without the perfect vertical format and a category which is popular in itself, you can get hundreds of repins. This building above is a good example. Although architecture is one of the default Pinterest categories it's not hugely popular (with a few exceptions)-. In most cases people love to repin lavish seaside villas with luxuriously dimensioned pools. Yet even these pins in most cases get dozens of pins rather than hundreds.
Most people like to aspire to lifestyles they can't afford yet. There is a considerable group though that likes a both realistic and affordable way of life both in reality and on Pinterest. These people for example like ecological buildings, prefabricated homes for example, short prefabs. An extremely popular trend among those people are shipping container homes.
I was a shipping container enthusiast myself a decade ago until I've worked a month in one during summer. In short: It was hot. Even my laptop overheated. It was a very basic shipping container home with zero extra insulation etc. though.
By now there are numerous buildings worldwide that use shipping containers as basic elements but also add sophisticated padding so that at the end of the day you barely recognize that a minimalist modern home is made from containers underneath. The image above is such an excellent example.
Did I also mention that shipping container homes are much cheaper than other buildings and that they are also environmentally friendly? Yes, shipping containers can easily be recycled as buildings and are available by the millions. Thus whenever a home made of containers looks good without looking too trashy it gets additional attention from the treehuggers all over the planet.


You don't have to cover a popular topic. Even an unpopular one like cycling or bikes can garner a lot of attention when combined with beautiful women and ideally women also are already celebrities. Famous men also work to some extent but don't get as widely spread as female cyclist depictions.
This image of actress Belen Rodriguez is proof of this concept. I pinned it mainly because of the neat cruiser underneath those beautiful legs yet I wasn't sad to show the latter either. Like in this example ideally you get repins from several groups of people:
beauty oriented women
health-focussed heterosexual men
cycling fans and bike experts.
Last but not least celebrity hungry gossip girls will love that image.
I'm not a big aficionado of celebrity news but when they display an environmentally friendly mode of transport I'm glad to give them additional publicity. Did I mention that other treehuggers tend to act in a similar way?
Thus when dealing with a topic that usually affects only a minority you rather want to add something to your image that has a wider appeal and is suitable to the masses or at least a larger interest group.
Adding Star Wars elements is also a fool-proof way to get attention as another unusually popular cycling pin of mine shows: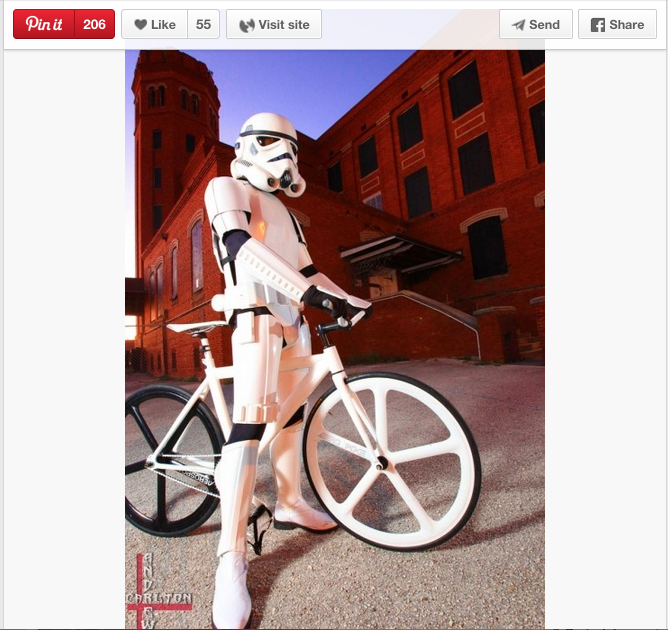 I've got pins that have been repinned thousands of times but are often exceptions to the rule. The pins above have become popular for reasons you can easily deduce from the context. In case you want to look at my popular pins yourself to get the bigger picture make sure to visit my profile over there.
* Creative Commons image by Hello Chaos