On the subject of Digital PR
April 30th, 2010.
With the growth of digital marketing and social media participation we're now starting to see more and more PR agencies looking to online communities as a way of increasing their clients influence.
In my opinion a more organised and structured approach to social media can only be a good thing, used in the right way it can be a very powerful tool, however far too many companies are either not using it to its full advantage, or doing things badly and damaging their brand while isolating themselves from other social media users.
However that's not to say that every PR agency jumping headfirst into Twitter and Facebook is doing a great job. I still see many agencies that don't really have a full understanding of what they're doing and why they're doing it. Many cases tend to be client-led, with questions and requests for a social media strategy leading to hasty moves in order to win business and prevent existing clients from potentially looking elsewhere.
In our various dealings with agencies these are the topics that repeatedly seem to reappear…..
Content really does matter – Most Of Your Ideas Will Fail
The quality of the content is the key to any social media strategy
You can't rely on contacts for success. There are no friendly journalists or editors that can swing a campaign with a well placed piece
Okay, good and great don't cut it, if you're relying on people to see your content and pass it on then it needs to be amazing, fantastic or brilliant
Let go of the brand – in many cases overuse of the client brand will turn a successful viral into blatant advertising that people have no inclination to pass-on.
The trickle-down effect is key to a successful campaign, brilliant content seeded onto key blogs, Twitter accounts and other social news sites will explode onto other social sites, smaller blogs and media outlets without you having to do anything.
Having said all of that, most of your great ideas will fail. There really is an element of being in the right place at the right time and taking advantage of any good fortune that comes your way.
It Isn't ALL about Twitter
Twitter at the moment tends to be used as a buzz-word for social media, desire to participate can often be driven by a CEOs 14 your-old daughter.
There are other social sites that are just AS important
Sites like Digg can potentially send far more traffic and is monitored constantly by journalists and influencers
A well seeded and targeted story on a sites like Digg and Reddit can translate into national and international press
Understand Your Audience
You need to understand not just who you're talking to but why
Is your or your clients Twitter account supposed to be speaking to potential clients, existing customers or journalists, bloggers and the media?
Is Twitter and Facebook or Digg and Reddit the best way to connect with your linkerati?
Spend some time understanding where your targets are communicating with each other. Any time spent on competitor intelligence is worthwhile, but bear in mind they might not have got things right themselves.
Don't Use Channels In Isolation, Look At The Bigger Picture
If you're just using one social media network in isolation then you're almost certainly underperforming
It's usually a good idea to create a blog or news section on your client site and then use this as a 'hub' for all of their social media activity
Cross-promote your different networks, you'll find that users will sign-up for other networks as well as the one they arrived from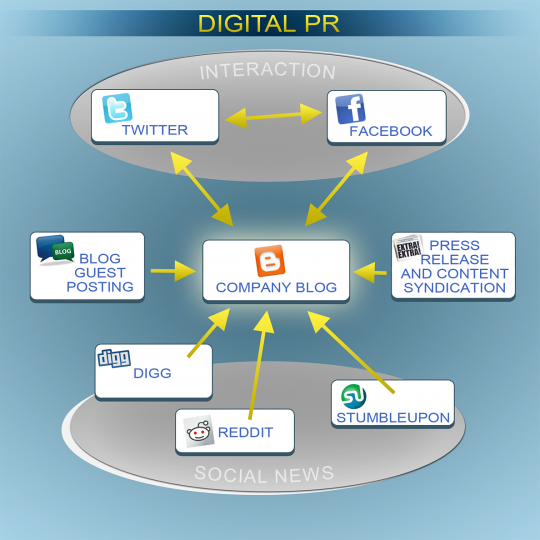 It's Not Just About What You Say But How You Say It
Syndicating content isn't just about pushing a release through a network like PRWeb, if only things were that easy!
Draw up a list of targets for each release – blogs, news sites, media outlets, find their contact details and contact them directly as you would with any offline story.
Have some idea of the potential 'influence' of each target, record metrics such as domain authority, Compete rank, Technorati ranking, and look at the number of comments each article receives. The idea being you can then identify the top sites in a given vertical and prioritise where you focus your efforts. Remember if you can gain coverage on the larger sites the smaller ones tend to follow.
It's All About Measurement And Metrics
The real advantage of being online is that everything is trackable. You can gain insight into where visitors arrived from, how long they spend on the site and where they move onto.
Use this data to understand which elements of your activity work and which ones don't
Sign-up to a reputation monitoring service to track brand mentions online, you'll almost certainly miss posts, mentions and articles if you don't.
Have a clear plan as to which metrics are important and make sure you track them – visits, views, contacts, sales, comments, signups, links gained, search engine rankings can all be influenced by your activity – track it and report it.
Remember You Have No Control
Always remember you have no control over how things are passed-on and how they're being received
Things aren't always 'on-brand' – remember people pass things on because they like them, not because they help you or your clients
Be ready to react and respond directly to questions, be honest and professional at all times
May 20th, 2009.
Online PR has been a huge growth area in recent times. As the shift from print to digital media becomes more pronounced, the relative importance of digital PR continues to grow against its more traditional equivalent.
The problem for many companies is that there are some fundamental differences between the two disciplines, while at the same time it's increasingly important to maintain as much synergy as possible between your online and offline PR messages.
Where Does Online PR Fit In With SEO?
It's often confusing nowadays where SEO ends and digital PR begins, the two disciplines are complimentary and do overlap to a large extent. There are certainly two differing objectives, I view SEO as being more metric orientated, it's about maximising revenue through increasing traffic sent via search engines, ultimately raising search rankings. Online PR is more about client perception, managing exposure, and building relationships with key influencers. Where some confusion lies is that very similar techniques are now used to achieve both goals.
Developing Key Relationships
Certainly the largest difference between online and offline PR is the diverse and fragmented nature of online media. Your offline press targets may consist of 40-50 publications, online that total may well run into several hundred, potentially more. These contacts themselves will almost certainly be diverse, spread worldwide, some professional writers, many part-time amateurs.
Obviously maintaining one-to-one relationships with all of these people is unrealistic due to time constraints, however, be aware of the key influencers in your industry, find out which sites are the highest trafficked or have the most RSS subscribers and make sure you try to forge relationships with them.
Going Social
A valuable alternative to forming direct relationships online is community participation. A key part of any campaign is being aware of where and how your industry communicates online, these days most industries now have forums and message boards, influential industry blogs and Twitter communities. It's vital that you're not just aware of these, but active participation will ensure that you have a direct line to these influencers at what should be a minimal time cost.
Writing For The Web
Often the bane of the offline journalist, mundane press releases and content along the lines of "We've just hired John Smith" or "Our new Widget 3000 is the best Widget since the Widget 2000″, these kind of topics just don't cut it as content any more – they never really did. Whereas before a cosy relationship with a tame journalist may have helped snooze inducing releases get published, online it really is the content that counts. You will find yourself having to water down brand messages and promotion in order to maximise your take-up rate.
Before you sit down and write anything, ask yourself what's in it for other people. Despite being a great bunch, bloggers (I'm one myself) are generally pretty selfish. They're not going to publish something just because you ask them to. You have to give them something in return.
6 Great Paths To Publication
News – Bloggers can't resist genuinely newsworthy stories that aren't already published all over the web. A possible alternative to this is expert commentary on breaking industry news.
Humour – everyone loves a bit of humour, especially bloggers.
Controversy – Be careful here, controversy works very well at generating publicity, much of it negative. Be prepared to defend yourself and field some awkward questions – Ryanair, we're looking at you.
Tools and applications – Building great tools and apps and making them available for free is a sure-fire way of getting great publicity.
Resources – Articles that act as how to guides or resource lists are usually well received.
Poll and survey results and data – Try conducting customer and industry surveys and publish the results via press release and offer them to key industry sites in advance of publication.
Writing Tips
Be aware of the keywords that people use to find your products/services, and be sure to use these in key areas such as press release titles or page headings.
Keep it short and punchy. People tend to scan text online. Bullet points and lists work well.
A punchy attention grabbing headline is key, this is what readers will see first and influence their decision to read or not.
Work an angle – where possible relate the content to something topical that is happening in the news or your industry.
Time For Release
Once you're happy with the content of your press release there are several dedicated syndication sites such as PR Newswire, PRWeb and PR.com. However, by just syndicating to these sites you're almost certainly missing a huge proportion of your market. Contacting news sites and blogs directly will bring far better short term success and will also help to develop a long-term relationship.
Start by creating a list of blog and news sites in your industry. Google is a good place to start, use searches like [your industry]+news and [your industry]+blog to find some established sites. Follow their blogroll links to find out who they link to. Search blog directories and Technorati to create an extensive list of your press targets.
Contact them all individually, introduce yourself and your company, ask them if they're happy to receive press releases from you, and ask about their editorial policy
Keep a spreadsheet of information such as URL, contact email, key staff, editorial policies and notes on the site content. This will help you later when it comes to choosing who to send individual releases to. For example, some sites may be happy to conduct product reviews, others may prefer to concentrate on industry news. The key here is to continuously add to this and to keep it updated over time.
Pre-release be sure to publish the release on your site and link to it, rather than emailing the whole thing to people. Bloggers don't generally like to just republish releases, they'll generally want to rewrite them and offer their own opinions. The editorial integrity of blogs is pretty sacred to many bloggers, don't try to ride roughshod over this.
Be sure to include high quality images that you're happy for people to re-use. Again, don't email these, give them a link to them
Some Examples Of Successful PR/Social Media Campaigns
Will It Blend? – A great example of a brand using the humour hook to generate publicity. Blendtec got around the problem of having a fairly mundane product by videoing their blenders being used to destroy all manner of interesting items.
Compare The Meercat – A fantastic integrated campaign, engaging users on a variety of social media, Facebook, Twitter, YouTube, and of course the microsite.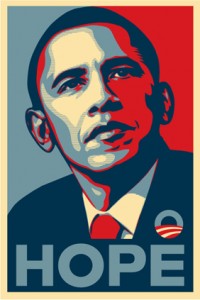 Ryanair – Ryanair are either the kings of the contraversy hook, or they just don't care about PR at all. I'd go for the latter, especially when carfully crafted stories such as this, this and this manage to get them a disproportionate amount of media attention from the national press. How damaging some of these stories are to the brand is of course debatable.
Barack Obama – The Obama presidential and nomination campaigns both focused on listening, engaging and getting people involved. Another cross channel campaign, engaging on Twitter and a range of online tools to increase participation.
Measuring Impact
One of the advantages of the internet is the fact that almost everything is measurable. Whereas offline you may be relying on a press cuttings service and measuring success in column inches, online you can measure an almost infinite number of metrics, such as visits, sales, links, search rankings, social media mentions etc.
Of course, to be able to do this you need the correct tools. Some of my favourite ones are,
Google Analytics for measuring traffic, referring sites, keyword search data.
Blogpulse – for tracking brand/story mentions in the blogosphere
Google Alerts – Sign-up to receive an email alert each time you brand is mentioned online
Technorati – Another great way to search what blogs are talking about.
March 10th, 2009.
Building links to your website has always been vital, and it is likely to remain so for the near future. Links provide the basic structure that the Google algorithm is based on, and are the main indicator of a pages importance.
It's important not to make the mistake of assuming that as the need for links hasn't changed, that the methods of acquiring them haven't. Just as the web has changed from brochure websites to interactive communities so has the methods of building links to these sites.
So how did people used to build links?
Directory submissions – We've all seen the "submit to 10,000 directories for $9.99″ adverts haven't we? With that many links you can't go wrong surely?
Internal links – Footer links, yes I know, we've still got them!
Paid links – need some quick links? Pop over to Pay-Per-Post and get a blogger to knock up some paid reviews.
Forums and blog comments – Drop by, drop your links, nobody really cares right?
All of that sounds easy right? And to be fair it is, or was. Google wised up to all of these methods a long time ago. Some are devalued and won't bring you any benefit, others are going to put your site in danger of being penalised.
So bearing all of this in mind, what should your link building strategy consist of in the Web 2.0 age?
Directory submissions – I'm a firm believer that good directories will still pass value. Directories like Yahoo, JoeAnt, Business.com, BOTW, The Good Web Guide, Elib, Site Sift and many more are on my submit list. Niche directories that offer a comprehensive review process are also worth their weight in gold.
Internal links – Logic dictates that footer links are probably devalued by now. Either way, it's probably preferable making the most out of your standard navigation links. Include your keywords where possible. Make sure your navigation links are present on each and every page. Provide an additional breadcrumb navigation where this isn't practical.
Internal in-content links – It's not just navigation links that help. Be aware when you're using your keywords in your body text. Link them to your target pages.
Online PR – Drop the paid links and start drawing up a list of sites that you HAVE to be seen on. Go through the list contacting them, form a relationship with them, find out what you need to do to get involved with their site. They may allow you to write editorial for them, offer to review your products, publish your link in their directory or even just give you a mention where relevant.
Offline PR – A lot of people don't give this any consideration. Bear in mind that a lot of offline PR is now also published online in digital editions. A surprising number of places don't automatically include a link to the website, your PR has to be aware of this, normally it's just a case of asking.
3rd party hosted pages – Make sure you have a presence on sites that offer profile pages. Facebook brand pages, About.org, Flickr, Squidoo and many other industry based sites.
Press releases – Do something newsworthy. People generally aren't interested in how your XPC-1i is different to your XPC-1ii, but they'll probably want to write about it if you've just set a land speed record in it. Don't just submit it to the PR outlets, but send it directly to the people that you want to publish it.
Linkbait – Create worthwhile content. These days your site HAS to stand out. You need to offer something that others don't. Create something useful, funny, or shocking – think like a tabloid newspaper editor or an encyclopedia publisher. Whatever you do, do it better than anyone else.
Related industry pages – Don't forget industry bodies and associations, suppliers, retailers or other business contacts with websites. Many have places where they would be happy to link to your site.
Network – One of the most important of all. Join in with your industry online. Comment on blogs, post on forums, subscribe to RSS feeds, link up with people on Twitter. Networking with people will give plenty of opportunities to ask for a link. By getting involved though you'll probably find that people link to you anyway.
Competitive intelligence – Tools like Linkscape and Yahoo Site Explorer now mean that we have even more imformation than ever before about who links to our competitors. Find out who they are and then add them to your target list.
While linkbuilding over the past few years has become more skilled and time intensive, it isn't always harder. Just like Web 2.0 linkbuilding 2.0 is all about developing relationships, information sharing and adding value.