On the subject of landing pages
October 28th, 2010.
Maximising the benefit of social and viral traffic is frequently a concept that is misunderstood by site owners looking at huge traffic spikes in their analytics accounts.
Great, 50k visits, how many sales?

None? What a waste of time!
Many years ago when I used to work in sales a key to a successful appointment was sticking to the habit of asking yourself,
What is the minimum I'm going to expect from this call or meeting?
For many salespeople its the sale, which in most cases just isn't realistic. The minimum an intelligent salesperson expects from a contact is an invite to get in-touch again. Its building on this relationship that creates long-lasting rewarding partnerships.
I have always approached social media with the same kind of mindset. For the vast majority of people that land on your pages, particularly on viral and linkbait type content its the first time that they have had any contact with your brand. – What is the minimum you'll expect? A sale, or an invite to get in contact again?
I have mocked-up below a before and after of a typical blog landing page.
Before (click for a larger version)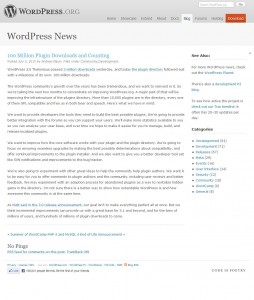 After (click for a larger version)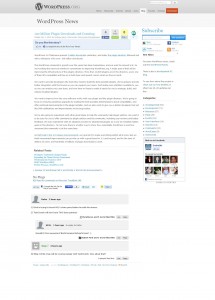 The key changes to the page include,
Adding easily visible subscribe options to a prominent area of the page, including the ability to subscribe by RSS or email.
Prominent social media voting buttons at both the top and bottom of a post. Many social media users are members of multiple sites. Many may arrive from Twitter for example and then wish to Digg a story. Make it as easy as possible for them to do this.
Twitter followers and Facebook fan pages can be as effective as email newsletter sign ups – make the most out of these if you use them and encourage people to sign up.
Experiment with adding related posts to the bottom of your articles, this can help with how 'sticky' your site is.
Encourage people to comment on your posts. Moderate spam and try to reply to people asking for help or advice.
Remember, its not always about converting a visitor into a sale, converting them into a user, reader, commenter, voter, advocate or sharer can be far more effective in the long-run.