On the subject of facebook
April 14th, 2010.
Many of us have the question in our minds trying to figure out whether they should use facebook ppc or Google ppc, but realistically the only way one can resolve this dilema is to try them both and measure the results over a period of time.
Facebook Ads:
Facebook ads are rapidly gaining in popularity and are very beneficial to small to medium size businesses, attempting to increase traffic with pay per click.
Facebook is currently showing up as having four hundred million active members and is the only company that Google actually acknowledges is a real competitor to them.
Facebook is pretty much untapped compared to PPC advertising on Google, Yahoo or Bing.  There is another big benefit to this type of advertising – if people like your business, they can pass "word of mouth" very easily to other people on facebook, and now you have happy customers doing your advertising.
Another fantastic advantage of facebook advertising is you can target a list of potential customers in a way that was never available before.  Demographic targeting means that facebook PPC clients will be able to set up their ads so that they only appear on the facebook pages of people who are tightly defined as part of their target market. For example, advertisers will be able to select from a number of options such as age, gender, marital status, geographical location, hobbies and interests. When ads are as well targeted as this, copy writing becomes a much easier process. You have a much better chance of generating targeted clicks to their sales pages.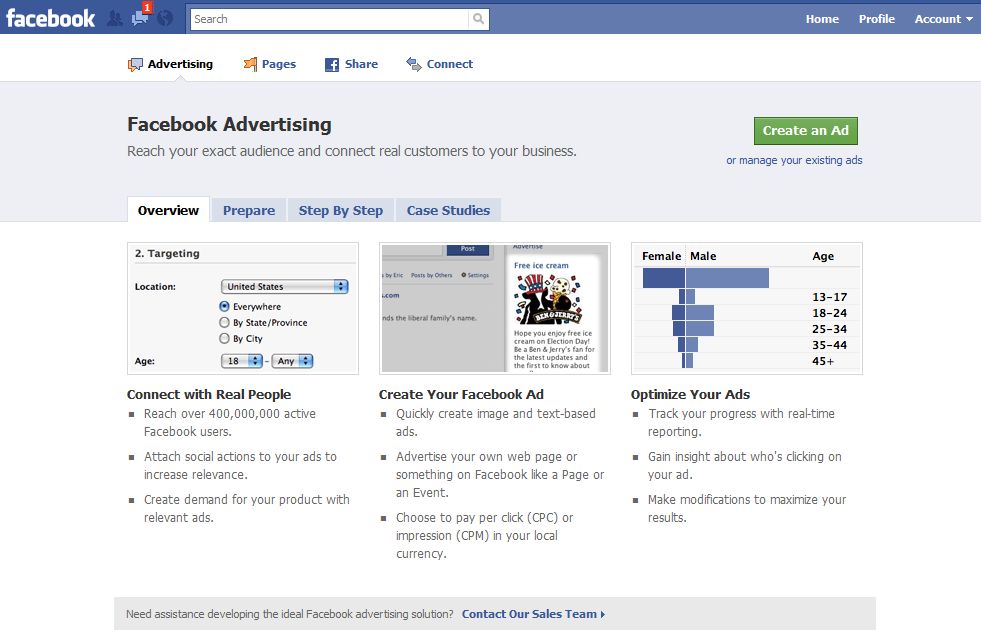 Google Ads:
Google pay per click advertising is a flexible, relatively low cost method of promoting your website and generating interest that can help you achieve your company's targets.
It can be economical compared with more traditional advertising strategies.
The principles of pay per click advertising are straight forward – if a company is willing to place the highest bid for a keyword it will be ranked the highest on the search results page.
For short-term advertising campaigns, pay per click advertising is ideal – allowing organisations to change the copy of ads. as desired to reflect keyword changes.
In both cases the disadvantages of pay per click campaigns is if they are not monitored on a regular basis, ones company could end up spending more money than it made by pay per click advertising. The cost per click will remain the same rate, whatever your traffic levels are.
March 25th, 2010.
'What page should I launch – a group or fan page?' 
You are not alone in this question and here are some simple ways that might help you decide.
There are two ways on facebook you can advertise your business – a fan page or a group page.  Firstly, you should consider how you want to communicate with your audience, i.e. do you want to be an information source or do you want to engage your audience in dialogue? Both groups and fan pages allow you to create discussions and others to reply. Both have a wall for people to write on and allow you to share videos and pictures and require you to manually remove posts as an administrator if something does not meet your standards or purpose for the page.
Here are some points that can help you decide which is best for you:
Fan Pages
Pages are similar to personal profiles on facebook, but used in a commercial capacity such as a celebrity, public figure, Brand, local business and so on.
Pages are essentially a profile for your business, which can also be viewed publicly by people who are not users of facebook.
Businesses can use fan pages to publish information, which is then picked up in status feeds of their fans.
facebook users can connect with their favourite artists and businesses through fan pages and also show their colleagues/friends what they care about.
Once a facebook user becomes a fan they then can recommend that page to other friends.
Pages have two walls, one which the Page owner writes, and one just for fans to write their own messages. Like a normal facebook profile, Pages have tabs that uncover more information.
Pages are better  for companies who want to interact with their fans or customers without having them connected to a personal account, and have a need to exceed facebook's 5,000 friend cap.
In summary if you don't want to mix your personal interactions with your business on facebook, then a fan page might be just want you need.  Your fan page can be strictly for your online business and will keep all your interactions steered towards your business contacts.
Groups
These are generally better for hosting an active discussion and attracting fast attention.
Groups allow you to send out bulk invitations (for instance, you can ask all of your friends to join the group) and any of your group members can also invite their friends. If you have "friends" on your facebook page who are acquaintances or just share common interests this is a good way to market.
Groups are not public, but allow you to send messages that show up in a person's Inbox, making more direct communication.
Group pages allow you to set other administrators to see who is requesting to join the group. If you post something to the group page, it will also show up on your personal wall. Some people don't like this because it ties them to their businesses, but this can be useful in creating a "person behind the online business" feeling with your customers. You have more control over participants and permissions with group memberships.
A group, however, has a limitation of 5,000 members if you wish to send a message. They are generally considered to be best for more personal interaction.
In summary groups are great for organising on a personal level and for smaller scale interaction around a cause.
Regardless of which one you choose (of course, you can have both), be sure to update regularly, keep your audience engaged and offer something of value. If you use your fan page or group purely for promotional reasons, you are far less likely to build loyalty, and there's a good chance that your members and friends won't be returning to your pages anytime soon.
With the UK elections fast approaching I thought it would be interesting to take a look at how well the major UK political parties were using social media to connect with voters.
With Barack Obama famously using social media to court the youth vote in the US elections, social media is now a viable  platform for politicians to connect with people on a large scale.
All of the UK parties are maintaining a social media presence, with Facebook pages, Twitter and YouTube accounts prominently linked from their respective websites. To take a snapshot of activity and a gauge of its success I recorded the following metrics,
Facebook page friends
Twitter followers
Twitter tweets
Twitter reach
Klout score – a measure of Twitter influence
Compete score – a measure of website traffic
While all parties get points for maintaining a social presence on the major social sites The Conservatives are way ahead of their competition when it comes to the number of raw followers and the reach of their campaign. The Green Party received the highest Klout score, a measure of their influence and interaction on Twitter.
Interestingly enough the extremist BNP received by far the largest level of traffic to their website, but were one of the lowest scorers when it came to followers and interaction levels – perhaps an indication of voters researching their headline grabbing policies, but a degree of unwillingness to follow and interact with them, will this translate into a lack of votes?
On the whole though the UK parties are doing a fairly poor job of leveraging and interacting with social media users. Compare the Conservatives 23,000 Facebook page friends with Obama's profile currently over the 7.5 million mark. Even allowing for a smaller population and  lower levels of social media engagement it's clear that campaigns are failing to achieve what they should be doing. It's difficult to tell if this is due to campaign mis-management, or simply voter apathy after recent political events.