On the subject of seller extension
February 15th, 2012.
The star ratings that you often see in Google ads are known as seller extensions. These are now likely to appear in the paid, organic and shopping results.  These ratings are generated when product reviews are submitted either on 3rd party sites such as ReeVoo or TrustPilot, or when Schema.org mark-up is used to tag internal/on-site reviews.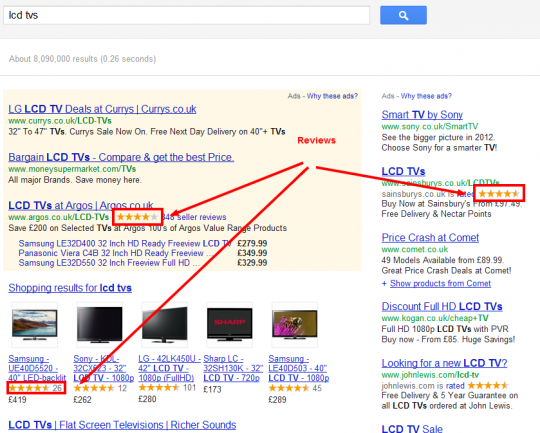 It is often cited that these star ratings can improve click-through rates by as much as 30%, which will not only increase both organic and paid visitors, but an increase in PPC click-through rate is also likely to reduce your overall cost per click.
Now, while the effects of these are obviously positive when dealing with generic searches, consider the impact on organic brand traffic when seller extensions appeared for one of our clients brand searches.

As you can see, organic brand traffic fell by around 49%. Overall brand traffic remained around the same level, the client was now just paying for a much larger proportion of it via their own PPC ads.
The obvious solution in this case is to turn-off the PPC ads for brand search terms. However in this specific case the situation is compounded by other (legitimate and non-legitimate) companies bidding on their brand term, this includes Amazon, an approved distributor who also benefit from seller extensions  in their own PPC ad, so turning-off the client brand ads would probably result in a large share of their own brand traffic diverting to the Amazon result.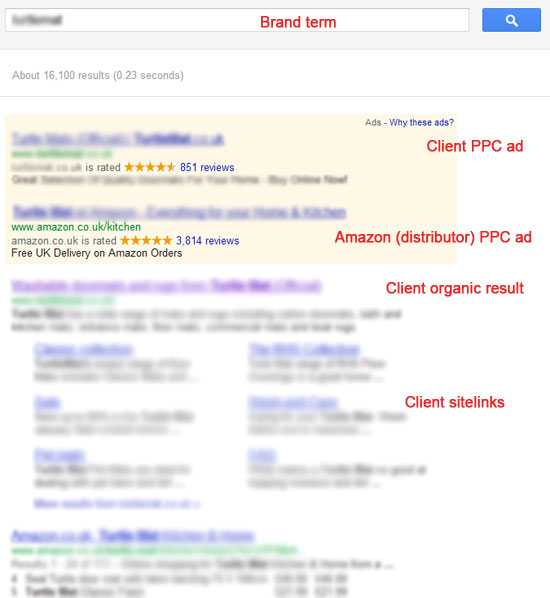 So what can be learnt from this?
Seller extensions have a dramatic uplift in click-through rate
Protect your brand/trademark results from unauthorised bidders
Prevent affiliates from bidding on your trademarked terms
Google are making a lot of money from selling companies their own brand traffic