On the subject of Reputation Management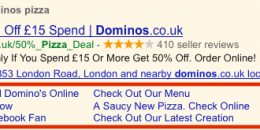 October 24th, 2014.
For some time Google has shown a number of sitelinks under some of its search results. In 2009 they expanded on this system and introduced mini sitelinks, also known as one line sitelinks.
So what are sitelinks? And what is the difference between normal sitelinks and mini sitelinks?
Sitelinks
The older form of sitelink appears to be relatively rare nowadays – they have tended to be superseded by their little brother. The traditional sitelinks appear under a few search terms, mainly well-known brands, and they show additional links within that particular domain. They will only appear on the top ranking result in a search, will show up to eight specific links on a site, and will appear in two columns (and therefore up to four rows).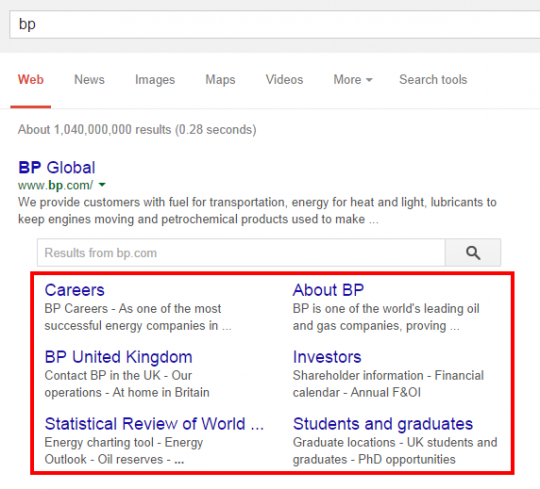 An example of a traditional sitelink occurs if you search for "BP" in Google.com. The top ranking result for that search is, not surprisingly, BP Global, at www.bp.com . At the bottom of this search result are four sitelinks (they are in the two-column style, so are clearly traditional sitelinks, not mini sitelinks) which are Careers / BP United Kingdom / BP Australia / BP America. These are clearly delineated sections of the BP website, and different people are likely to want to go to the different links.
Another example of a search term with traditional sitelinks is "BBC".  The first result belongs to the homepage of the BBC itself – www.bbc.co.uk. At the bottom of this result there are six sitelinks: BBC News / BBC iPlayer / Sport / Football / Weather / Radio. These, presumably, are six of the most frequently visited sections of the BBC site, and it is probable that people visiting the site only choose the one area that they are really looking for.
As can be seen from the examples I have chosen these traditional sitelinks generally only appear to show when you search for particular brands. Sitelinks only tend to be triggered when there is one specific authorititive site that is relevant for a query – in the vast majority of cases this is a brand result for a brand query. A search for "BP Oil" does not bring up traditional sitelinks, nor does "BBC Television". Indeed a search for some very well-known brands does not bring up a result with traditional sitelinks at all.
Although Google has kept its criteria for deciding on when to display sitelinks secret, it appears that it will only show traditional sitelinks when there is a clear and obvious first result in a search, and where there are sufficient different sections of a site that people would want to see, that match what people are likely to be searching for.
Mini Sitelinks
Mini sitelinks have now become much more common than the traditional variety. As their alternative name (one-line sitelinks) suggests these are all displayed on one line, and there are usually four of them. There can even be more than one set of them for a particular search term. Quite a number of search results that do not make it to number one in the search list still qualify to have a row of mini sitelinks placed on them.
The key differences between the two types of sitelinks are:
Sitelinks seem to be (generally) limited to branded searches, although the mini sitelinks are not
Sitelinks only appear beside the number one result in a search, but mini sitelinks can appear beside lower ranked results
Mini sitelinks can appear beside multiple search results for a term
It is even possible for a particular domain to appear more than once in a search of a specified term, and there can actually be different mini sitelinks on the different appearances of that site in the results. A particular domain can even show with traditional sitelinks at the top of a search, but with mini sitelinks further down the results.
The specific search term used is very important. A particular domain may appear in the results with traditional sitelinks, mini sitelinks or no sitelinks depending on what search term has been used. In particular there will be no sitelinks when rarely used search terms are used. If you search for "Starbucks" you will receive results with the Starbucks website in the number one position, showing traditional sitelinks. A search for "Starbucks brewed coffee" will still bring up the Starbucks website as the number one result, but is will show mini sitelinks. A search for "brewed coffee" will bring up the Starbucks site as the number two result, but neither it, nor any of the sites listed, have any sitelinks.
Google keeps its sitelinks' algorithm very much under wraps. However, there do seem to be a few common features of sites that have triggered mini sitelinks. If you aim to get these links on your own site, you might want to consider the following:
Is your actual site content relevant to your overall site theme? Google rewards consistency and clarity
Does your site have credible content that is clearly unique? Google loves quality content on a site.
Can Google clearly understand your site's structure? Again, the clearer it is, the better it is for Google
If you did have sitelinks, is it likely that your users would click on the links?
Do inner/hub/category pages on your site attract links?
Of course, much of this is basic SEO. So clearly a site needs more than just good SEO. It needs to also have good traffic, and that traffic needs to be going to clearly delineated sections of your site. There may well be an unidentified threshold traffic figure that Google uses in their decision making.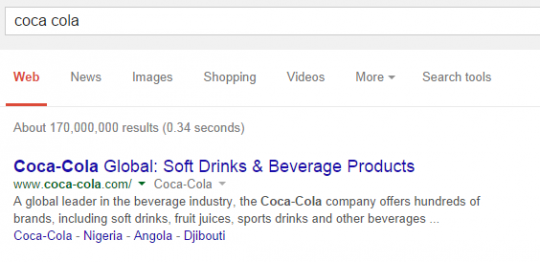 Apart from ensuring that you are big enough to attract a high front page ranking for well-targeted high-traffic keywords, there are a few other techniques which appear to help sites attract Google's attention for their mini sitelinks. You need to have a very clear navigational path through your site. This needs to tie in with a simple site structure that matches clear HTML and XML sitemaps.
Some sites, however, attract sitelinks when they do not want them. Even some of the big sites have somewhat bizarre sitelinks attached to them. If you search for Coca Cola, the first thing you notice is that despite being a big brand there are no traditional sitelinks. The mini sitelinks that appear beneath the first result (for www.coca-cola.com) are Coca-Cola / Nigeria / Angola / Djibouti … a somewhat odd choice unless you were living in Africa.
This instance supports the view that navigation is an important factor in triggering sitelinks and which sitelinks are chosen.
If you feel your sitelinks are inappropriate, or would prefer not to have them at all, you can block them using your Google Webmaster Tools. There is a chance that, assuming you already meet the criteria to have sitelinks, you might be able to suggest to Google more appropriate links (again in your Google Webmaster Tools). However, ultimately it is up to Google to decide who will receive the links and what these will be.