On the subject of Web Technology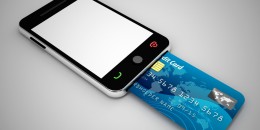 October 17th, 2014.
From cash to credit cards, the way consumers pay for their purchases has significantly evolved over the past few decades. Now, however, the evolution of payment methods is accelerating, thanks mostly to the prevalence of technology in society.
According to statistics, there are currently six billion mobile phones in use throughout the world, and 88% of Europeans own one. Many consumers now browse eCommerce websites from their phones.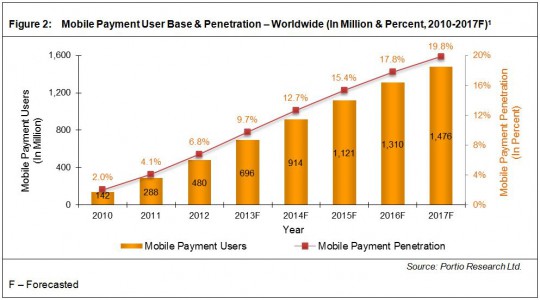 In 2012 alone, people spent $25 billion on purchases that they made from their mobile phones. Now, 32% of all purchases online are made from mobile phones. As a result of the growth of mobile platforms, by 2018, according to Goldman Sachs, international e-Commerce will see a growth of $638 billion. By 2020, it is estimated that the majority of people will make purchases using their mobile phone.
The popularity of mobile phones is changing the way consumers shop. Often, people don't feel that using their credit card or debit card to pay for purchases is safe or secure. The need for a more convenient and secure way to pay for purchases has led to an increase in mobile payment systems.
What is a Mobile Payment System?
Mobile payments require a mobile payment processing platform.  Many companies, from PayPal to Amazon now offer such options to their customers. There are four types of mobile payments:
Contactless Near Field Communication
Premium SMS Based Transactional Payments
WAP Billing/Mobile Web Payments
Direct Mobile Billing
Popular Mobile Payment Systems
All of these mobile payment platforms vary in the models they use. However, they all eliminate the need for registration details, passwords and credit cards or debit cards.
Zong
Zong is a mobile payment organisation, which allows its customers to make payments online, via their mobile phones. The company, which was acquired by eBay in 2011, operates in forty countries, including the UK. Zong now has 60 million users in the UK. Customers in the UK can use Zong if they are on the Vodaphone, Orange, O2, T-Mobile, 3 or the Virgin network.
To use Zong, you simply click on the red Zong symbol, and a box will appear. You need to enter your mobile phone number into this box. Then, you will be sent a secure pin code, which you will enter online to make your purchase. With Zong, a consumer's purchase is charged through their mobile phone bill, by their mobile network.
PayPal Mobile Payments
PayPal is a well-known digital wallet and online payment system, which has been making it easier for consumers to shop online. Now, the company is offering a mobile payments system, called PayPal Mobile Payments. The company first tried the NFC payments model, but found it too complex and limiting. The system now is very simple.
First, you have to activate your mobile phone number and pin number. These will be your mobile login details. Then, either online, or through apps, you can shop using this payment system. You simply select PayPal as your payment option, and then enter your mobile number and pin number to make your purchase. This payment system is compatible with iOS and Android apps, and it allows you to pay via phone, tablet, and many other mobile devices.
Amazon Payments/Amazon Mobile Payments Service
Through the Amazon Payments system, consumers can make purchases online, in a way that is more secure and more convenient. Through the Amazon Payments system, Amazon is offering the Amazon Mobile Payment Service (MPS). With this system, customers can make purchases with their mobile phones.
To make a purchase using the Amazon Mobile Payment Service, first click on the "Pay with Amazon" button. You will then be taken to page hosted by Amazon Payments, where you will use your Amazon login details to sign in. From there, you can select a payment method that you already have on file with Amazon. Once you've selected a payment option, you'll return to the merchant's site, where you can make your purchase. You can use the Amazon Mobile Payment Service to make purchase from any mobile device.
Netsize
Netsize is a payment platform, which allows its users to make purchases from their phones and other mobile devices. The company works with over 160 mobile networks in more than 50 countries. Netsize offers many mobile payment models, including WAP billing, in-app billing, and operator billing.
Text2Pay
Text2Pay is a mobile payment system, which makes purchasing products online, much easier. The payment system operates in over fifty countries. To make a purchase on Text2Pay, you need to click on the "Pay by Fone" button. Then you will need to enter your mobile phone number. You will then be asked to enter your post code, so that Text2Pay can verify that it matches the details for your mobile phone number. After this, you will be sent a pin number, which you will need to enter to complete the transaction.
Boku
One of the largest mobile payment programs, Boku operates in 66 countries, and is partnered with over two hundred mobile phone networks. Boku is a very safe, and convenient mobile payment system, and it offers excellent customer services.
To use Boku to make a purchase, you need to select the "Pay by Mobile" option. You will need to enter your mobile phone number. Then, you need to click "Yes" to confirm your purchase. Purchases that you make using Boku will be charged directly to your mobile phone bill. This means that you don't need to use credit cards, debit cards or bank accounts to make your purchase.
With the rise in smartphones, apps and tablets, mobile payment systems are becoming an integral part of eCommerce. As the amount of purchases made from mobile devices continues to grow, more and more eCommerce sites are sure to begin offering mobile payments.